Japanese Cabinet Approves $50 Billion Recovery Plan
---
April 24, 2011
The Japanese Cabinet is getting on with the business of rebuilding the country, approving nearly $50 billion of spending earmarked for recovery, including plans to build up to 100,000 homes.

Embattled Prime Minister Naoto Kan insisted that he would stay on to help his country rebuild, rebuffing calls for his resignation. Criticisms of his handling the crises have ranged from being too slow to approve emergency measures to keeping key details from the Japanese public.

Work continued at the crippled Fukushima Dai-ichi Nuclear Power Plant, as workers there continued in their quest to ensure that no more radiation leaked out of the reactors there. The government is still enforcing a 12-mile-wide evacuation zone around the plant. The plant was one of those hardest hit by the 9.0-magnitude earthquake, and the government recently raised the nuclear severity rating to the highest possible level.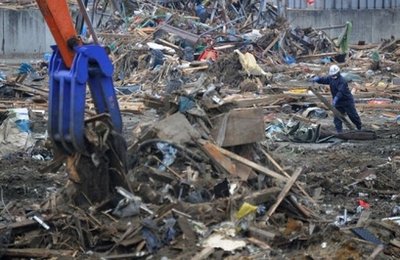 The resulting tsunami wiped out whole villages, killing up to 28,000 people and making homeless more than 250,000. Temporary shelters are still packed with people, and relief officials see a faraway end in sight to the current overcrowding. Cleanup continued on a massive scale across the northeastern part of Honshu, the country's largest island.

The Cabinet funding came a week after the country's finance minister saw cause for optimism, emphasizing that the country would be turning to recovery. Still, many officials say that a full recovery might take decades to be fully implemented.

Officials in the government, at Tokyo Electric Power Company (TEPCO), and at the Fukushima plant have come in for harsh criticism in recent weeks, both inside Japan and elsewhere in the world. Both Kan and TEPCO President Masataka Shimizu have publicly apologized and attempted to re-establish confidence in their abilities.

Japan Airlines reported a stark drop in holiday bookings. Golden Week, one of the country's most festive times of the year, is the first week in May.

Social Studies
for Kids
copyright 2002-2014,
David White
---