---
Bad Weather Forces Shift in Iditarod Start

On This Site
Share This Page

---
Follow This Site



February 25, 2017
The 2017 Iditarod Trail Sled Dog Race will start not in the traditional location of Willow but in Fairbanks because of poor conditions in the Alaska Range.
It is the third time in the race's 45-year history that organizers have moved the start; Fairbanks was also the starting location in 2003 and 2015.
A ceremonial start in Anchorage is the traditional kickoff of race condition festivities, and this year's event starts at 10 a.m. on Saturday, March 4. The Fairbanks restart, which is the official beginning of the race in earnest, will be at 10 a.m. on Monday, March 6.
A total of 72 teams, including last year's top 10 finishers, will toe the start line and make their way along the Southern Route to Nome. (Mushers use the Northern Route in even-numbered years.) First-time starters number 17; female starters also number 17.
Dallas Seavey will be looking for a four-peat and his fifth overall win. Seavey, in winning in 2016, set a course record in 2016, finishing in 8 days, 11 hours, 20 minutes, and 16 seconds. His father, Mitch, finished in second place. In fact, Mitch Seavey is the only reason that Dallas has not already won five in a row. Mitch won in 2013.
Lance Mackey has the most consecutive wins, with four in 2007–2010. Other four-time winners are Martin Buser, Susan Butcher, Jeff King, and Doug Swingley. Rick Swenson, with five, holds the all-time win record.
Buser, King, and Mitch Seavey will be on the start line, as will three-time runner-up Aliy Zirkle.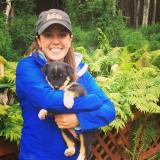 Also in a field, in a slightly different way, will be Annie Kelley (left), a fourth-grade teacher from Chicago's St. Andrew School. Kelley is the Iditarod Teacher on the Trail. Kelley has been in Alaska for five weeks doing trail reconnaissance. She will not command a group of dogs but will post to a blog during the race, from various points along the way, and she will be having video chats with her students and students in other classes. Kelley will also have to turn in lesson plans, using the race as a stimulus. The Teacher on the Trail program began in 1998, with a fund-raising effort by Andrea Aufder Heyde.