---
Course of Running Race Illustrates Gerrymandering

On This Site
Share This Page

---
Follow This Site



November 5, 2017
Runners in Asheville, N.C., recently participated in a 5K race (3.1 miles) that followed a nontraditional route, one designed to prove a political point.
Asheville is in North Carolina's 10th and 11th Congressional districts. The city used to be in one district. The Republican-controlled legislature redrew the shape of the two districts, both of which elected Republicans to the House of Representatives in 2016.
According to North Carolina state voting statistics (as of March 26, 2017), Congressional District 10 has 38,506 voters who registered as Democratic and 18,550 voters who registered as Republican; the numbers are similar in Congressional District 11, with 36,349 registered Democrats and 27,080 registered Republicans. 
Ratios in the Asheville area have long been similar. What changed was the redrawing of the district maps; the result was effectively to split the voting place of the Democratic majority. Three-quarters of voters in the Asheville area were moved from the 11th District to the 10th District.
A Democratic candidate (including the Democratic Party's ideological predecessor, the Democratic-Republican Party) had represented the 11th District all but four times since the district was created, in 1803. In the 2012 election, the first one after redistricting in 2011, Republican Mark Meadows defeated Democrat Hayden Rogers with 57 percent of the vote. (The two political parties had alternated since Bill Hendon of the GOP became his party's first representative of that district in 1980).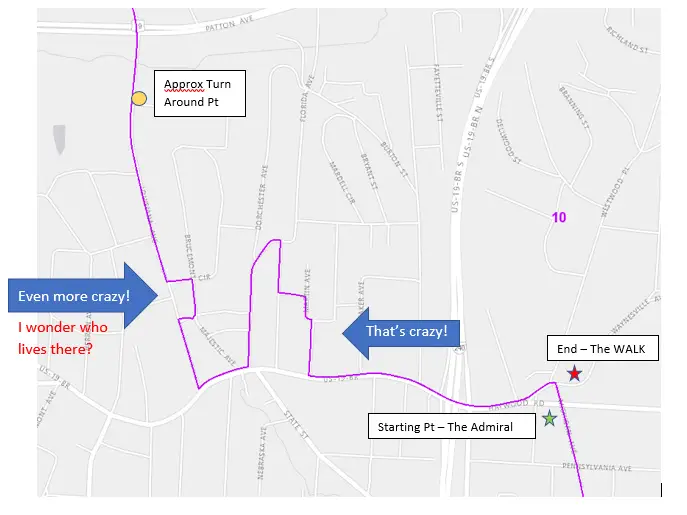 The race course for the Asheville 5K run was a zigzag affair, with sharp corners and repeated steps, effectively tracing the boundary between the two congressional districts. Race organizers designed the course route as nonstandard to call attention to the "gerrymandered" districts that resulted from the 2011 redistricting.
Such practices are legal, but some observers view them as controversial. The U.S. Supreme Court recently heard a Wisconsin case on the topic. The High Court recently invalidated similar redistricting efforts in North Carolina, involving District 1 and District 12.
Of the 13 North Carolina Congressional districts, 10 are represented by Republicans; Democrats represent the other three. The number of registered voters for both parties on the date of the 2016 presidential and Congressional elections were 2,733,188 Democrats and 2,086,942 Republicans. 
The Gerrymander 5K went ahead in 2017 but did not take place in 2016; in that year, organizers canceled the race because of permit costs.