---
Divisive DeVos Makes History as Education Secretary

On This Site
Share This Page

---
Follow This Site



February 7, 2017
Elizabeth "Betsy" DeVos is the U.S. Secretary of Education. She has made history in two ways.
DeVos is the first in her position to have not attended public school or had a child who did so. She is also the first Cabinet member ever to be confirmed by a tie-breaking vote in the Senate.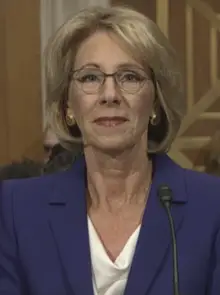 DeVos attend Holland (Mich.) Christian High School and then Calvin College, in Grand Rapids, Mich, where she earned a bachelor's degree in business administration and political science. DeVos and her husband, Dick, have four children. Their two daughters were home-schooled; their two sons attended Grand Rapids Christian High School, a private school.
She has been chair of the American Federation for Children, a school choice advocacy group, and a member of the board of the Foundation for Excellence in Education, a Tallahasse, Fla., think tank. She and her husband have made large donations and actively supported the school choice movement in Detroit and elsewhere in Michigan. She is on record as supporting a program of school vouchers, which would allow parents to apply a payout of $12,000 toward tuition at any private school, including religious schools.
A businesswoman as well as a politician, DeVos is chair of the Windquest Group, a Michigan investment business that promotes, among other things, clean energy.
Success in business runs in DeVos's family. Her father, Edgar Prince, founded the Prince Corporation, a very successful machine and auto business; and her husband, Dick, served at one time as the chief executive of multi-level marketing company Amway, which was founded by his father, Richard.
DeVos and her husband have also given much money to scientific endeavors and the arts. Among their scientific contributions have been to a program that specializes in neuroscience. DeVos was for a time on the board of directors of the Kennedy Center for the Performing Arts; she and her husband donated a large sume of money to set up the DeVos Institute of Arts Management, at the University of Maryland, and are also the founders of ArtPrize, an international art competition in Grand Rapids.
A longtime supporter of GOP candidates, DeVos has been active in the Michigan Republican Party for nearly 30 years, serving as a local precinct delegate and then a national committeewoman and chair of the state GOP.
President Donald Trump's nomination of DeVos sparked contention on Capitol Hill. America's two largest teacher unions, the American Federation of Teachers and the National Education Association, both announced their opposition to DeVos as Secretary of Education. Other groups supported her nomination, however, including many religious groups, many advocates of school choice, and nearly all Republican Senators.
The Election of 2016 left the Republican Party with a 52-48 majority in the Senate, the house of Congress that confirms the President's nominees to head the leaders of the Cabinet-level departments. Cabinet Secretaries require a simple majority vote, so DeVos needed only 51 of the 100 Senate votes possible in order to succeed in her nomination. All 48 of the Democratic or Independent Senators voted against DeVos's nomination. Joining those 48 were two Republican Senators, so the confirmation vote ended at 50–50. Whenever a Senate vote ends in a tie, it is up to the Vice-president, in his or her capacity as President of the Senate, to break the tie. And breaking the tie with a vote in favor of DeVos's nomination was Vice-president Mike Pence. (It was the first tie-breaking vote in the Senate since March 2008, when Dick Cheney was Vice-president; that tie-breaker was cast on a budget bill.)