---
172 Countries Go Lights Out for Earth Hour

On This Site
Share This Page

---
Follow This Site



March 26, 2017
Earth Hour turned 10 with perhaps more than 10 candles lit.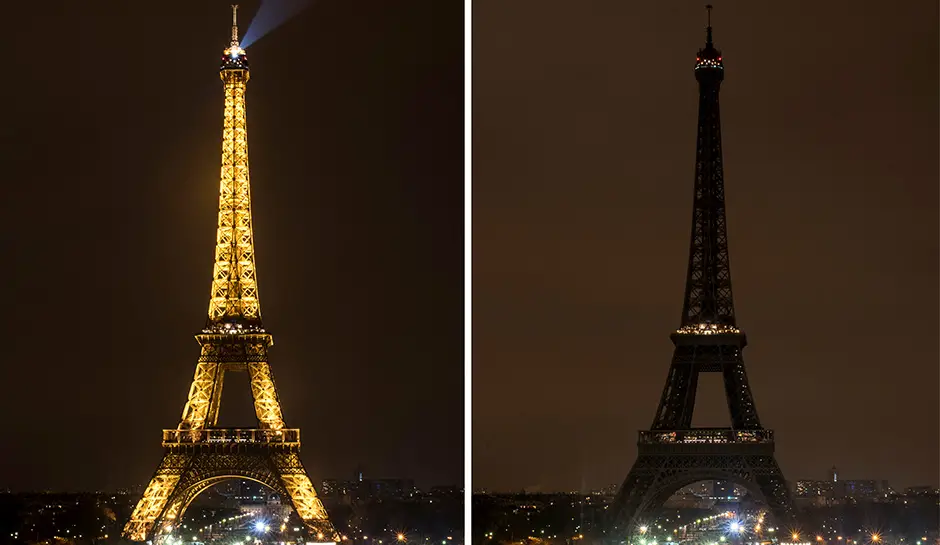 The iconic lights-out-for-an-hour event designed to call attention to humans' dependence on electricity (and the burning of fossil fuels to feed that dependency) and to the growing problem of global warming had millions of people in 172 countires and territories around the world taking part, according to event organizer World Wide Fund for Nature.
Participants and observers reported darkness at iconic world sites like the Empire State Building, United Nations headquarters, Big Ben, the London Eye, the Eiffel Tower, the Brandenburg Gate, the Kremlin, the Burj Khalifa, Rio's Christ the Redeemer statue, the Sony Building, the Giza Pyramids, and the Acropolis, along with many more lesser well known places.
Joining the lights-out list was the Opera House in Sydney, Australia, where Earth Hour originated in 2007, as a small movement with a working title of "The Big Flick." San Francisco joined Sydney in that first year; the very next year, people in 35 countries got onboard. The number of people and countries participating has increased every year, even as the date for the annual event has changed.
On March 25, 2017, Sydney starting the rolling blackout at 8:30 p.m. Sydney time. The effort rolled on eastward from there. Many places kept the lights off for the entire hour. Some, like the Eiffel Tower, switched off for just a few minutes.
In some cities, people gathered at cathedrals and other public places that were lit by candles or other nonelectronic means. Buddhist monks at the Shwedagon, the most sacred pagoda in Myanmar, lit 10,000 oil lamps.