---
Dubai to Introduce Passenger Copter Drone

On This Site
Share This Page

---
Follow This Site



March 5, 2017
Travelers wishing to get around in Dubai will soon be able to be passengers in a flying drone.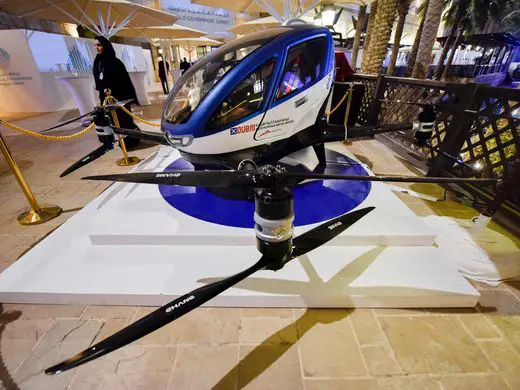 The world's first passenger aerial taxi, the EHang 184, is scheduled for launch in July 2017. The company, China-based EHang, will coordinate transport using a computerized system, and travelers will communicate with that system using the company's smartphone app. Destinations are pre-programmed within a 31-miles radius (all that the battery will allow), so passengers won't have the opportunity for a joy ride. The passenger's only responsibility is to press the Start button.
The egg-shaped quadcopter weighs 440 pounds and can reach heights of 11,500 feet. The 142-horsepower engine can safely carry a passenger who weighs no more than 220 pounds (and a small suitcase).
The aerial taxi, which made its debut at the Las Vegas Consumer Electronics Show in January 2016, has a maximum of 100 miles per hour. EHang insists that most passengers will not see a speed that tops 62 mph.
The launch of the passenger drone is part of Dubai's goal autonomous vehicles providing 25 percent of all passenger journeys by 2030. Another part of that plan is the planned Hyerloop One, a driverless shuttle that is aimed at running between Dubai and United Arab Emirates neighbor Abu Dhabi.