Bahrain Emergency Rule to End Early; Protesters Put on Trial
---
May 10, 2011
The king and government of Bahrain have issued mixed messages, on the one hand agreeing to end emergency rule while on the other hand proceeding with trials of people accused of trying overthrow the government.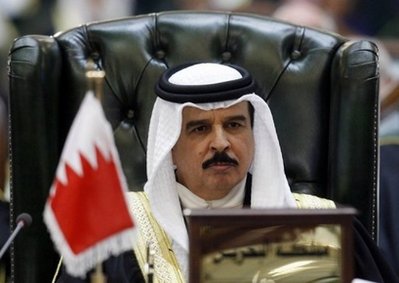 King Hamed bin Isa Khalifa announced that martial law would end on June 1, two weeks before it was scheduled to end. The emergency rule, which also includes a nighttime curfew and a series of security checkpoints manned by soldiers, was declared on March 15, in response to large protests like those in nearby Egypt and Syria.

The king, the latest in a 200-year-old dynastic line, has agreed to some demands by the people who have frequented the streets of Manama, the capital, and other cities in recent weeks. But the most determined of the protesters want the king to step down while also agreeing to form a more representative government.

Among those charged are leading human rights activists, journalists, and doctors and nurses. Civilians all, they will be tried in a military court on charges of attempting to overthrow the government. Seven protesters were convincted under similar circumstances last month, with four being sentenced to death for killing a pair of policemen and the other three being sentenced to life imprisonment.

Bahraini soldiers and security forces, backed by a large contingent of the Saudi military, have been on patrol for several weeks, in what has increasingly become a religion-tinged struggle. The king and members of the government are Sunni Muslim; members of the opposition are Shia Muslim. The two sects differ greatly on fundamentals of their religion.

Social Studies
for Kids
copyright 2002-2014,
David White
---