Southern Survivors Buoyed by Aid in Wake of Killer Storms
---
April 30, 2011
Aid has come pouring in to the southern states hit hard by the once-in-a-century combination of tornadoes and thunderstorms, with the latest feel-good story coming in the form of an unemployed woman leaving a Birmingham, Ala., Red Cross shelter barefoot, after she gave up the shoes on her feet.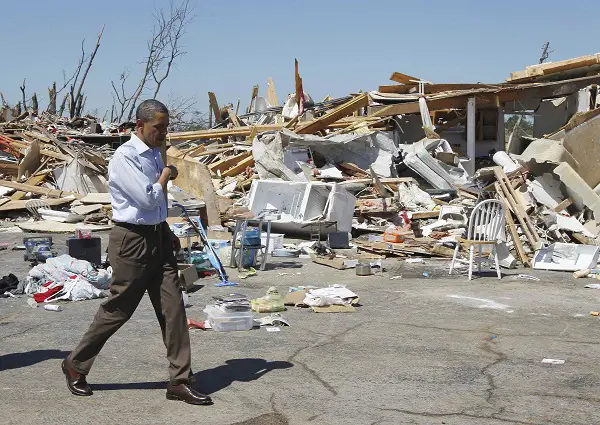 Volunteers have poured into the area, charity officials have reported, armed with strong hands and backs and a will to pitch in and help. Among the volunteers have been friends, neighbors, and family members of the people devastated by the damage — in some cases, people whose houses had been left unscathed by a quirk of nature, were giving up their time, possessions, and money to help those in need.

President Obama toured the devastation and termed it some of the worst he had ever seen.

Several hundred people have been left homeless, and the death toll has topped 350.

The storms also knocked out power to the Browns Ferry nuclear power plant, but backup diesel generators were keeping the plant's nuclear reactors cooled.
---
Custom Search

Social Studies
for Kids
copyright 2002-2014,
David White
---