---
The History of the Teddy Bear
Share This Page

---
Follow This Site


---
The teddy bear as we know it has been around only since the early part of the 20th Century. And, as with other famous inventions (like the telephone), it was a shared process.
One of the first known appearances of any kind of stuffed toy bear was in the 1894 catalog put out by German toy company Gebruder Sussenguth. This was in conjunction with the hand-making of stuffed
bears by German seamstress Margarete Steiff. This woman had been making such toys for a few years by the time the Gebruder Sussenguth came out, but the idea of a toy stuffed bear wasn't a high priority for many people in Europe at the time.
Things changed in 1903, when a buyer from an American toy store saw the bear at a fair in Leipzig and promptly placed an order for 3,000. This buyer saw an opportunity for capitalizing on a real-life event.
The President of the United States in 1902 was Theodore Roosevelt, who liked to hunt in the wild. On a hunting trip in Mississippi, Roosevelt failed to kill a bear, so the people hunting with him found one and tied it to a tree. It would have been an easy shot for Roosevelt, who could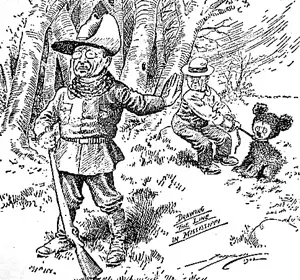 have claimed a certain kill. But "Teddy," as he was known, had this to say: "Spare the bear! I will not shoot a tethered animal!" He refused to shoot an animal that could not fight back by trying to escape.
This incident was reported in American newspapers, of course. It was particularly the subject of a cartoon by Clifford Berryman of the Washington Post. The cartoon was titled "Drawing the Line in Mississippi." The American toy store buyer who ordered 3,000 bears from Margarete Steiff definitely saw an opportunity.
So did Morris and Rose Michton, Russian immigrants who created their own stuffed toy bear. They made several bears and planned to sell them. They even sent one to President Roosevelt, asking for permission to name the bear after him. They wanted to call it "Teddy's Bear." Roosevelt gave his permission, and sales took off. (In his typical modest way, he had this to say: "I don't think my name is likely to be worth much in the toy bear business, but you are welcome to use it.")
The Michtons' bear was a bit different from the Steiff bear. The Michtons' bear looked more like the bear in the Washington Post cartoon; the Steiff bear looked more like a real bear. Sales of both skyrocketed after Roosevelt's "approval." Other manufacturers have come on-board through the years, and the teddy bear remains a staple of toy collections around the world.
Teddy bears were not only for children, however. Especially in the first several years of their existence, they found favor with adults, especially those who wanted to be "in fashion." As the popularity of teddy bears grew, so did the sophistication of the bears. Some were musical. Others were mechanical. Some walked and did somersaults. Many made after World War II were washable. Many made nowadays talk and sing. And they continue to be featured in the toy collections of both children and adults.