The first of what are now known as crossword puzzles appeared in print in 1913. The date was December 21, and the entity of printing was a Sunday newspaper, the
The creator of this new kind of puzzle was Arthur Wynne, who hailed from Liverpool, in the United Kingdom. He named the puzzle word-cross, and his creation was in the shape of a diamond, with no black squares.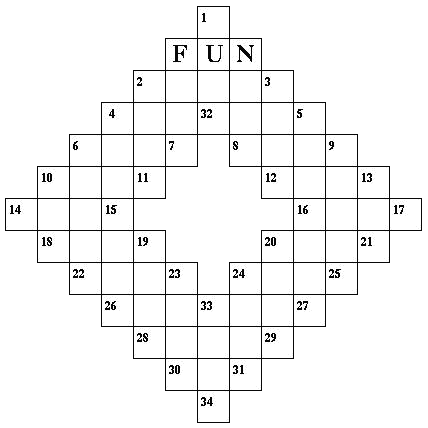 Wynne was the writer of the games page for the World. He got such positive feedback on his creation that he included a new one in the next Sunday edition of the World, and then another new one in the week after that. One story has that it the name changed from word-cross to cross-word because of a printing mistake. Whatever the reason, crossword (and the hyphen was eventually removed) is the name by which this puzzle is now known.
Readers of the World were able to enjoy their weekly crossword, but it took awhile for other newspapers to start printing the word puzzles. For one thing, the crossword, which its large mixture of black and white squares, proved a difficult thing to print successfully. But demand for such puzzles in print became so strong that other newspapers and many magazines soon started including crosswords in their editions.
By that time, the format that is familiar to today's enthusiasts, that of a square or rectangle, was established. Initially, though, Wynne experimented with different shapes, including a circle.
Many accounts of Wynne's creation list as its genesis an updating of children's puzzle books containing word squares, which appeared in England in the 19th Century. In those word squares, all the words read the same across and down. Wynne's innovation was to deviate from that pattern, so each word was different.
The innovation was a winning one. Crosswords began to appear in book form in the mid-1920s, helping launch the publishing careers of M. Lincoln Schuster and Richard L. Simon, whose publishing house (Simon & Schuster) is still one of the largest in the world.
The crossword eventually proved very popular in the United States, and that popularity spread to other countries. The first British crossword was in Pearson's Magazine, in February 1922. The Times of London published its first crossword on Feb. 1, 1930. Readers in other countries soon began to enjoy crosswords printed in their own publications.
As a result, demand for dictionaries and crossword hint books grew. From one publication on a whim on a Sunday in 1913, the crossword had grown into a worldwide phenomenon.