---
Titanic: Passengers Famously Separated by Class
---
In many ways, the Titanic passenger list reflected the wide class divide of the times. Of the 1,296 total passengers onboard the massive ocean liner, 319 were labeled as first class, 269 were termed second class, and 699 were called third class, or steerage.
A closer look at the casualty figures reveals that of the 319 first-class passengers, 200 survived and of the 269 second-class passengers, 117 survived. Only 172 of 699 third-class passengers survived. A similar percentage can be found among crew and staff: 215 of 918 survived.
First-class passengers included wealthy businessmen, famous entertainers, high-ranking members of the military, and professional athletes. Among the second-class numbers were professors, authors, tourists, and clergymen. Most of the third-class passengers were immigrants seeking a new life in the U.S. or Canada.
Some of the people aboard the Titanic were very famous in their day.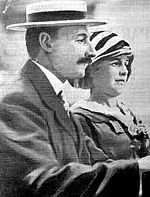 The most prominent name was probably John Jacob Astor IV (right), the latest millionaire in a family of rich businessmen. He and his wife, Madeleine, were returning to the U.S. so Madeleine could give birth to their first child at home.
Also onboard were these famous people:
Isidor Straus, owner of the Macy's department store, and his wife, Ida
Youngstown Sheet and Tube Company founder George Wick
Charles Hays, the president of Canada's Grand Trunk Railway
John Thayer, a vice-president with the Pennsylvania Railroad
George Widener, owner of the Philadelphia Traction (streetcar) Company
Benjamin Guggenheim, a member of the powerful mining family whose brother Solomon established the eponymous New York museum.
All of these famous people died when the Titanic sank.
Among the famous people surviving the disaster were J. Bruce Ismay, chairman of White Star Line; Thomas Andrews, the ship's builder; millionaire and women's rights activist Margaret Brown; and silent film star Dorothy Gibson.
Among the more than 700 survivors were the "Titanic Orphans," Michel Jr. and Edmond Navratil, infant sons of Michel Navratil, who kidnapped his sons and took them aboard the Titanic to get them away from their mother, who lived in Nice, France. Michel, the father, died, but the boys survived and were cared for by fellow survivor Margaret Hays until their mother arrived in New York to take them home. (Hays had widely circulated photographs of the twins, and their mother had eventually seen the pictures.)
Also surviving was Violet Jessop, a nurse who was working as a stewardess on the Titanic and went on to survive the sinking of the Britannic four years later. Jessop went on to work for another ship company, the Red Star Line, and went on two round-the-world cruises.
The last remaining survivor was Elizabeth Dean, who was only a few months old when she and her family boarded the Titanic in hopes of immigrating to the American Midwest. Elizabeth, known as Millvina, and her mother and brother survived. Elizabeth died in 2009, at age 97.