Who/What/Where/When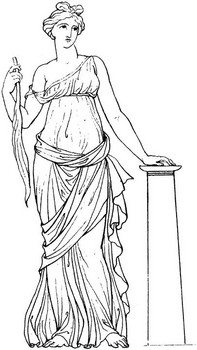 Venus
Definition: Goddess of love and beauty. She was known to the Greeks as Aphrodite, wife of Hephaestus/Vulcan. She is said to have caused the Trojan War by promising Helen of Troy to Paris, hero of the Achaeans, in exchange for a golden apple. Among her children are said to have been Aeneas, a Trojan hero and a legendary founder of Rome, and Eros, who made quite a name for himself with his arrows of love.
Related Resources:
Ancient Rome
Learn more about the fascinating story of Rome.
Elsewhere on the Web:
An Introduction to the Goddess of Love
The basic facts are here, as well as a few important details.
Venus: Some Basics
Find out more about Venus.
<Back to Last Page> <Full List> <Related Subject>
---
Custom Search

Social Studies
for Kids
copyright 2002-2014,
David White
---