Who/What/Where/When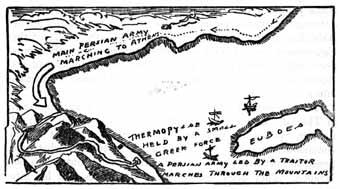 Thermopylae
Definition: Land battle that was a heroic stand by Spartans that fought off an overwhelming Persian advance, enabling the remaining Greeks to mobilize their forces and minimize their losses. The Persians chose to pursue the Greeks through a narrow mountain pass, where only a handful of Spartans were needed to defend. The Spartans fought on long after they were doomed to die, and they all fell in battle, partly because a traitor showed the Persians a back passage through the mountains.
Related Resources:
The Persian Wars: Greece's Finest Hours
Get down to basics with this easy-to-read article describing the Greeks' mighty struggles against the mighty Persians. Includes maps and timeline, as well as interactive windows describing each of the four important battles.
Ancient Greece
Learn more about the area as a whole.
Elsewhere on the Web:
About Thermopylae
Some detail about the heroic defense.
Persian Wars Timeline
Dates are always helpful in understanding wars.
Map of the Battle
See the geography that made this heroic stand possible.
Essays on the Persian Wars
These essays give you the before, during, and after of the wars.
<Back to Last Page> <Full List> <Related Subject>
---