Who/What/Where/When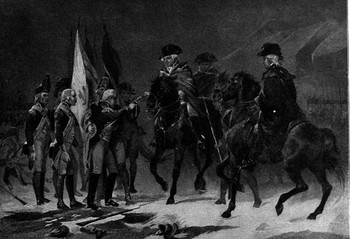 Trenton
Definition: Famous American victory that began with "Washington Crossing the Delaware." Actually, the whole army crossed the Delaware River, which was frozen in places, on Christmas night, 1776, from Pennsylvania to the outskirts of Trenton, New Jersey. There, the Americans surprised a drunken Hessian force that celebrated the holiday a little too much. The battle lasted about 45 minutes and resulted in 900 Hessian prisoners. The Americans then marched on Princeton and won there, too. They were smashing victories for the weary Americans, and they were also an opportunity to gain some badly needed guns and ammunition.
Related Resources:
The American Revolutionary War
This fun, illustrated article tells you all you need to know about this famous war, from an easy-to-understand point of view.
Elsewhere on the Web:
More on the Battle of Trenton
See the famous painting and read about the successful surprise attack.
The Revolutionary War: Causes and Major Battles
This site has it all!
<Back to Last Page> <Full List> <Related Subject>
---
Custom Search

Social Studies
for Kids
copyright 2002-2014,
David White
---