Who/What/Where/When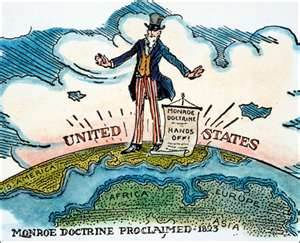 Monroe Doctrine
Definition: Proclamation in 1823 by President James Monroe. Basically, it warned European nations not to get involved in political matters in Central and South America. The Doctrine was intended to show that the United States was the only country that could influence such political matters. Further, several countries in South American had recently undergone revolutions against their European colonial owners and ended up with republican governments. The United States agreed with their political philosophy and did not want to see those newly free nations become European colonies again.
Related Resources:
The Monroe Doctrine
The Monroe Doctrine is an American Government policy statement of nonintervention that has had wide-ranging if sporadic enforcement and uses since it was introduced.
The 19th Century
An overview of the time in which Monroe lived.
James Monroe
More about this president for his election landslide and his Doctrine.
Elsewhere on the Web:
Text of the Monroe Doctrine
Read for yourself how Monroe acted to protect American interests in the Southern Hemisphere.
James Monroe Biography
From the Internet Public /library, this site gives a well-rounded picture of Monroe and his times.
<Back to Last Page> <Full List> <Related Subject>