Who/What/Where/When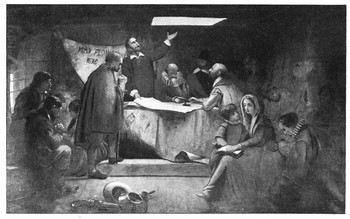 Mayflower Compact
Definition: The Mayflower Compact was a document signed by 41 male Pilgrims on November 21, 1620. By signing this document, the men agreed to form a temporary government and be bound by its laws. The compact became the basis of government in the Plymouth Colony.
Related Resources:
The Mayflower Compact
Read the text, find out who signed it, discover more about how it came about.
William Bradford: Plymouth Colony's Inspiration
A poor orphan, he rose to prominence and governed the Plymouth Colony for 30 years.
The Pilgrims: Voyage to Freedom
Follow the Pilgrims as they sail across the Atlantic Ocean, from England to America, in search of religious freedom. See who they meet when they land in New England. Find out about the first Thanksgiving.
Elsewhere on the Web:
Pilgrims and Puritans: Background
This text-heavy site gives a huge amount of detail about the world the Pilgrims lived in.
A Brief History of the Mayflower
This is a great site! It has the text of the Compact and several other agreements, all kinds of settlers lists, information about the clothing the Pilgrims wore and the way they lived, even information about Squanto and other people of the Wampanoag tribe.
<Back to Last Page> <Full List> <Related Subject>