Who/What/Where/When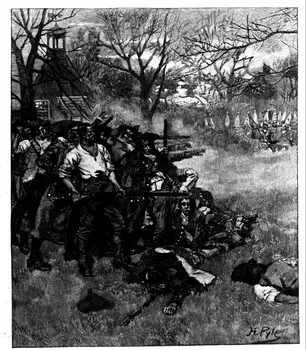 Lexington and Concord
Definition: First shots fired between American and British troops, on April 19, 1775. The British chose to march to Concord because it was an arms depot. This meant that the Americans had stockpiled weapons there. British troops had occupied Boston and were marching on Concord as they passed through Lexington. No one is still sure who fired first, but it was the "Shot Heard 'Round the World." Both sides opened fire, and the Americans were forced to withdraw. But they had slowed the British advance. By the time the Redcoats got to Concord, the Americans were waiting for them in force. The weapons depot was saved, and the British were forced to retreat, harassed by militiamen along the way. The skirmishes were preceded by Paul Revere's famous ride, warning the countryside: "The British are Coming!"
Related Resources:
The American Revolutionary War
This fun, illustrated article tells you all you need to know about this famous war, from an easy-to-understand point of view.
Elsewhere on the Web:
More on Lexington and Concord
Read more about these two famous skirmishes that began the war.
The Revolutionary War: Causes and Major Battles
This site has it all!
<Back to Last Page> <Full List> <Related Subject>
Custom Search

Social Studies
for Kids
copyright 2002-2014,
David White
---