Who/What/Where/When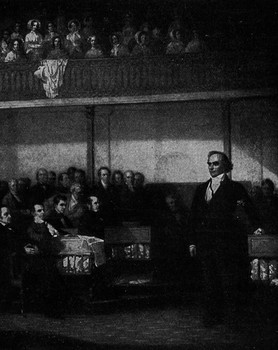 Daniel Webster
Definition: Famous lawyer and public speaker who made many speeches in favor of the Constitution, the federal government and the Union. He served in both houses of Congress and then as Secretary of State for Presidents William Henry Harrison, John Tyler, and Millard Fillmore. Webster ran for president in 1836, one of four Whig candidates to run. They split the vote, and Democrat Martin van Buren won. Webster is also famous for arguing cases before the Supreme Court and for the Webster-Hayne Debates. In these debates, South Carolina Senator Robert Hayne took the position that states were more important than the Union. Webster passionately argued that the Constitution and the Union were more important. It was in these debates that Webster said, "Liberty and Union, now and forever one and inseparable."
Related Resources:
The New Nation
Find out more about the period between the signing of the Constitution and the year 1800.
The 19th Century
Get a glimpse of what life was like in the exciting 1800s.
Elsewhere on the Web:
Biography of Daniel Webster
Learn all about the life of this famous American!
Daniel Webster: Dartmouth's Favorite Son
This AMAZING site has facts and figures, timelines, speeches, and much more!
The Webster-Hayne Debates
Learn more about these famous debates, which shaped the fabric of the nation.
<Back to Last Page> <Full List> <Related Subject>
---