---
Current Events
'Brexit,' Stage Left: U.K. Votes to Leave EU
June 23, 2016
Brexit it is. In a historic nationwide referendum, a majority of United Kingdom voters has opted for their country to leave the European Union. The U.K. has been a member of the EU since 1973. In response, Prime Minister David Cameron, who had campaigned so heavily in favor of staying in the EU, announced his intention to resign. Next up is a period of negotiations with EU and other European officials, to work out the terms of Brexit, a mashup of "Britain" and "Exit" that gained favor in recent weeks.
U.K. Voting on Future with 'Brexit'
June 15, 2016
Voters in the United Kingdom will, on June 23, 2016, take part in a referendum on leaving the European Union. The popular term for this possibility is "Brexit," combining "Britain" and "exit." A referendum is a nationwide vote. In the U.K., the results of a referendum are binding; so if a majority of voters say they want their country to leave the European Union, then the Government will have to comply.
Courts Back Teens in Climate Change Activism
May 21, 2016
Make that multiple victories for students suing their state government over climate change inaction. The Massachusetts Supreme Judicial Court recently ruled that the state's Department of Environmental Protection was not doing enough to achieve the amount of reduction in greenhouse gas emissions that a 2008 Massachusetts law had stipulated. Young plaintiffs had won similar cases in Oregon and Washington.
Female WWII Pilots to Be Buried Again in Arlington
May 22, 2016

Female American pilots who served during World War II can now officially be buried alongside their male armed services counterparts, the result of a law passed unanimously by Congress and signed by President Barack Obama. Women Airforce Service Pilots (WASPs) had been buried at Arlington National Cemetery since 2002. However, in 2015, John McHugh, at the time the Army Secretary, ruled that federal law prohibited female pilots from being buried at Arlington. The family of one of the WASPs, 2nd Lt. Elaine Danforth Harmon (above), led the drive to change that policy.
Olympic Tickets Unveiled; Torch Relay Progresses
May 21, 2016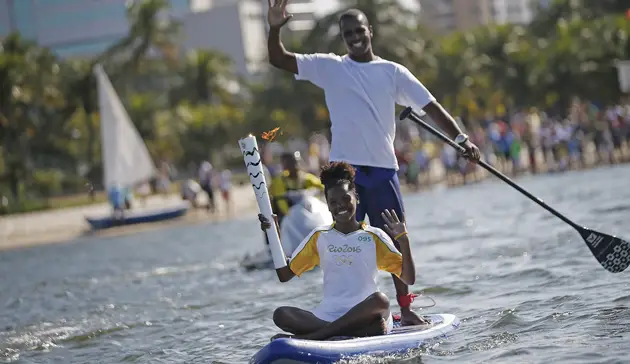 Organizers of the 2016 Summer Olympic Games have taken the wraps off the design for tickets. Each sport's tickets will have a unique logo. Tickets will go on sale on May 26. Organizers said that their designers had been working for nearly 18 months on the designs. And, the Olympic Torch is in Brazil, after the traditional lighting in Olympia, Greece, home of the ancient Olympics. Torchbearers have run, as is tradition, but have also found novel ways to carry torch, including by dancing, by sailing, and by paddling, as in paddleboat (above).
Solar-powered Plane Soldiers on; 4 Legs Left
May 22, 2016
Solar Impulse 2 has completed the 12th leg of its intended round-the-world-without-refueling journey. The solar-powered airplane arrived in Dayton, Ohio. After a safe journey across the Pacific, a few repairs, and a brief one-day flight to Phoenix and a slightly longer one-day to Tulsa, Okla., Solar Impulse 2 arrived in Dayton with Andre Boschberg at the controls. He and partner Bertrand Piccard have been sharing the pilot duties. The team began their journey in the United Arab Emirates in March 2015. The goal is to return to the UAE and complete the 16-leg circumnavigation.
No Hidden Chambers in Tut Tomb
May 14, 2016
King Tut's tomb has no hidden chambers, National Geographic says, after its team's radar scans found no evidence to back up a claim made in 2015. Then, Nicholas Reeves, the director of the Amarna Royal Tombs Project, advanced on scans by archaeologist Hirokatsu Watanabe that he said showed two hidden chambers in the tomb of Tutankhamen, the famous "Boy King," to suggest that one of those chambers contained the tomb of the long-lost Nefertiti, King Tut's stepmother and the most well-known wife of the famed Akhenaten. The initial announcement of the possibility of hidden chambers was met with equal parts excitement and skepticism. A National Geographic team conducted further scans and found no evidence of hidden chambers.
Tattoos from Ancient Egypt Realistic, a First
May 14, 2016
A dig at the well-known Egyptian worker village of Deir el-Medina has unearthed a mummy of a woman sporting tattoos of recognizable things, which is a first, archaeologists say. The mummy had on it tattoos of cows, snakes, baboons, and lotus blossoms that could be clearly seen as such. Tattooing in Ancient Egypt was not unheard of, but the illustrations tended to be abstract in nature.
Haiti 1st Non-African Member of African Union
May 14, 2016
Haiti will soon join the African Union, becoming the 54-member group's first nation not geographically in Africa. Haiti still relies heavily on foreign aid. One possible action for the country going forward is to petition to join the African Union's debt cancellation scheme. Another way to boost the economy would be for Haiti to take advantage of free trade between AU nations.
Thousands Enjoy Carless Champs Elysees
May 8, 2016
Parisians took to the streets by the thousands to enjoy a vehicle-free day on the Champs Elysees. The 1.2-mile avenue, one of the city's largest tourist destinations, features the Arc de Triomphe, along with many shops and cafes. On other days, it also features hundreds of pollution-belching cars, trucks, and motorbikes across eight lanes of traffic.
Rio to Feature Most-ever Female Olympians
May 2, 2016
Officials from the 2016 Olympic Games, in Rio de Janeiro, said that of the 12,000 athletes expected to compete, 4,700 would be women. That would be the highest ever percentage of female athletes, topping by a small amount the 44 percent seen in 2012.
Venezuela Moves Time to Save Energy
May 2, 2016
Venezuela has moved its clocks forward, in yet another attempt to save money as the country struggles through an electricity criss in the middle of a three-year-old depression. This comes on the heels of an announcement by the government that the public sector would go to a two-day work week.
Saudi Arabia Planning for Post-oil Economy
May 2, 2016
Saudi Arabia is planning to diversify, moving its economic focus from being overwhelmingly dependent on oil. Deputy Crown Prince Mohammed bin Salman made the announcement of Vision 2030, which includes a plan to sell shares in Aramco, a government-owned energy company, and also create what many say could be the world's largest state-owned investment fund.
Solar-powered Plane Lands Safely in Phoenix
May 2, 2016
The solar-powered journey of Solar Impulse 2 has contined successfully, with the plane landing safely in Phoenix to complete the 10th leg of a planned round-the-world non-fueling journey. After a much longer and possibly more risky flight across the Pacific Ocean, the crew was back in the air within a week of landing in Mountain View, Calif. Andrew Borschberg flew the plane for nearly 16 hours, including a crossing of the desolate Mojave Desert.
NASA Study Finds 'Radical Greening' on Earth
April 29, 2016
Earth is a bit greener after a sustained period of excess carbon dioxide, according to a new study from the National Aeronautics and Space Administration (NASA). Between 1982 and 2009, areas that were formerly full of dirt or sand or ice now sport green foliage. NASA listed the area that has been subject to so-called "radical greening" as twice as large as the continental United States. The higher amount of carbon dioxide in the atmosphere accelerated the rate of photosynthesis and, by extension, the rate of plant growth, NASA said, even in areas in which foliage had been sparse. NASA scientists warned that such radical change in plant growth could affect the water cycle and could alter the overall climate system as well.
Prince Charles Takes to Stage to Mark Bard's Legacy
April 23, 2016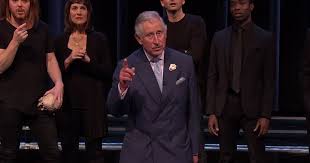 People around the world celebrated April 23 as the 400th anniversary of the death of William Shakespeare, reveling in the legacy of the man whom many people consider the world's most well-known playwright. Celebrations were particularly keen in Stratford-upon-Avon, with many famous present and past members of the Royal Shakespeare Company converging on Shakespeare's birthplace to pay their tribute to the inspiration behind many of their most famous performances. Such well-known actors as Benedict Cumberbatch, Judi Dench, and Ian McKellen, and Helen Mirren took part in the tribute. But it was a member of the royal family who stole the show.
Solar-powered Plane Crosses Pacific Safely
April 23, 2016
The solar-powered dream continues for Bertrand Piccard and Andrew Borschberg. Their latest airplane, Solar Impulse 2, powered into mainland American airspace and landed in Mountain View, Calif., after a 62-hour nonstop flight (without fueling, of course) from Hawaii.
Missing 'Inverted Jenny' Up for Auction
April 17, 2016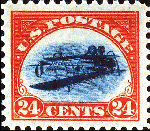 The up-an-down saga of the "Inverted Jenny" has a new upside, as one of America's most famous postage stamps is again up for auction. The stamp, a well-known mistake that netted its original owner a large sum of money and has gained subsequent owners even more, is a 1918 example of a printing error: The 24-cent stamp clearly shows an airplane upside down. The newest known example of this stamp, known as the "Inverted Jenny" in part because it showed a Curtiss JN-4H "Jenny" biplane, was stolen from a collector's convention in 1955. The stamp is now up for auction at Spink USA, in New York.
Earliest Start Ever for Greenland Ice Melt
April 17, 2016
Ice melt in Greenland has begun for this year already, the earliest on record for the perennially icy island. The very large ice sheet that covers much of the island nation for much of the winter goes through a melting period every year, usually in early June or perhaps in late May. But as of late April in 2016, the annual melting is already under way. Scientists reported record warm temperatures and heavy rain as causing the 12-percent melt already observed.
Remains of Huge Roman Villa Found in U.K.
April 17, 2016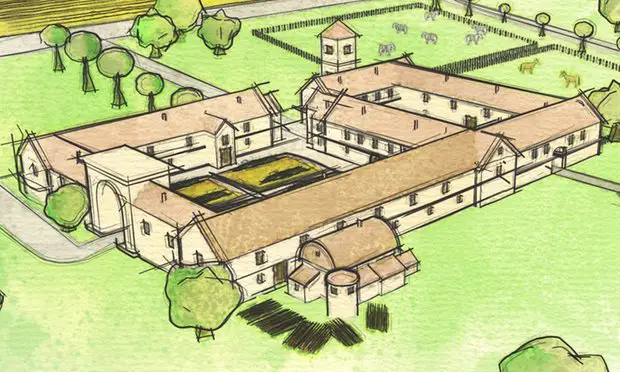 A floor mosaic discovered in the United Kingdom is from one of the largest Roman villas built in the country, archaeologists say. A chance discovery by electricians looking to install underground cables to power a games room includes the mosaic, built between A.D. 175 and 220 and remodeled extensively for a century after that, and an overall set of remains of a house that collapsed more than 1,500 years ago and has been virtually untouched since then.
Red Sea Bridge to Connect Egypt, Saudi Arabia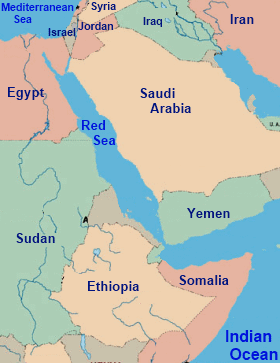 April 10, 2016
Egypt and Saudi Arabia have announced an agreement to connect the two countries with a land bridge over the Red Sea. The leaders of the two countries, King Salman of Saudi Arabia and Abdel Fatah al-Sisi, made the announcement during the king's visit to the Egyptian capital, Cairo. Sisi suggested that they name the bridge in honor of his Saudi counterpart.
Price of 1st-Class Stamps Drops
April 10, 2016
Mailing a letter in the United States costs less than it did yesterday. The Postal Regulatory Commission announced a drop in the price of mailing a first-class letter, from 49 cents to 47 cents. Also, the price of sending a postcard dropped from 35 cents to 34 cents. It was only the second time in the history of American stamps that the change in price was a downward one. The last time was in 1919, when the price dropped from 3 cents to 2 cents.
Ancient Dung Trail May Point Way to Hannibal's Alps Route
April 5, 2016
A 2,000-year-old trail of ancient excrement could be the key to determining the route of Hannibal's famous crossing of the Alps.The Carthaginian general, wanting to catch his enemy the Romans by surprise during the Second Punic War, marched in 218 B.C. from a Carthaginian stronghold in Spain through what is now southern France (but was then Gaul) and through the Alps into Italy from the north. It was a journey of more than 1,000 miles, made by an army of more than 30,000 men, who trudged through deep snow in the dead of winter, carrying with them more than 15,000 horses and mules and a few dozen war elephants. Such a mass movement of people and animals must have left some trail, historians have long thought, but the Alpine crossing took place a long time ago and subsequent generations of settlements and travelers have long obscured evidence of the exact route that Hannibal and his army took. Now, however, scientists think that they have the answer, in the form of animal dung. Citing carbon dating on remains of animal remains found near the Col de Traversette, a narrow pass between Grenoble, France, and Turin, Italy, scientists have theorized that Hannibal and his army did indeed pass that way.
Romans Had Teflon, Archaeologists Say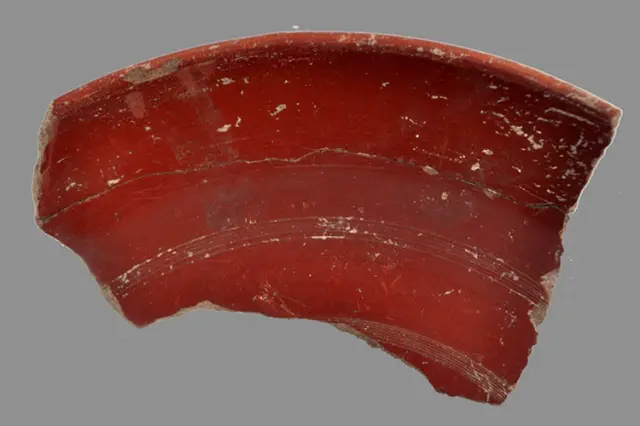 April 3, 2016
Nonstick technology is older than most people think – much older. In fact, it dates to Roman times. Archaeologists digging near the ancient Roman city of Cumae, which once stood not far from where Naples does now, have found proof of a long-held but until now unproven claim that Roman cooking technology included an ancient form of teflon.