The Renaissance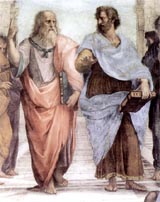 The Renaissance was a time of rebirth. Europeans experienced a reawakening of interest in the classics--government, literature, art, and thought. It was a time of experimentation. It was a time of religious upheaval. And it was a time of war.
---
Renaissance Studies at KidsKonnect
Find LOTS of links to other Renaissance-related stuff!
Renaissance Architecture
The way buildings were constructed changed as well during the Renaissance. Architects went back to classical times for their inspirations and used modern methods to create a whole new look in construction.
Renaissance Drama, Literature, and Poetry
It wasn't just visual art, either, that underwent a fundamental change. Writing changed, too. Plays, poems, stories all showed a classical influence.
Renaissance Music
Read about and listen to the changes brought forth by Renaissance composers. Even the way they composed was different.
Renaissance Living History
Many people keep the Renaissance spirit alive through Renaissance Faires and other forms of reenactment. Find out how you can see or join!
Women During the Renaissance
The role of the woman in the home and society as a whole changed during the Renaissance. Find out how by consulting these links.
Graphics courtesy of ArtToday
Previous 1 2