---
Election Day Visits to Anthony Gravesite Skyrocket

On This Site
Share This Page

---
Follow This Site



November 8, 2016
The line was especially long this year. Many people who might well have waited in another line, to vote, a bit earlier waited again for their chance to pay their respects to one of the founders of women's suffrage, in a year in which the standard-bearer for one of America's two major political parties was a woman.
The Rochester, N.Y., gravesite of women's suffrage pioneer Susan B. Anthony has long been a site of pilgrimage, and the practice of placing "I Voted" stickers on Anthony's headstone is established. The number of stickers in 2016, however, and the lines of people waiting to add their own stickers, were historic.
Anthony was one of the guiding lights of the movement that culminated in the passage of the 19th Amendment. That Amendment came in 1920, 14 years after Anthony had died. Anthony, however, is remembered.
Long before women could vote, way back in 1872, Anthony voted and got arrested. She refused to pay the fine. That was just one of many acts of civil disobedience practiced by Anthony and Elizabeth Cady Stanton and Lucretia Mott and others in the campaign to get the United States to grant women the vote.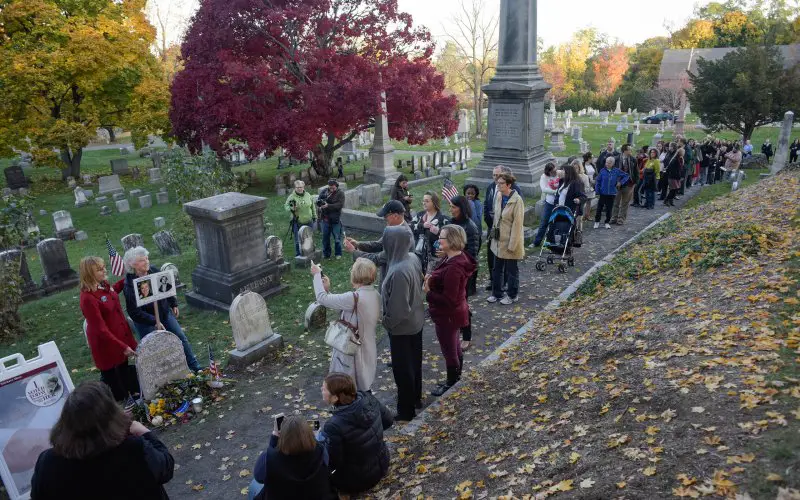 And in 2016, when Hillary Clinton was the Democratic Party's nominee for President, the practice of paying homage to Anthony and her efforts was especially poignant, many people said.
The town of Rochester has a Susan B. Anthony Museum & House. The town also has a cafe near the museum called the 1872 Cafe, named in honor of Anthony's voting "act" on November 5, 1872. It wasn't just Anthony voting that day; 15 women in all cast their votes, in the election that would result in the renewed presidency of Ulysses S. Grant. It just wasn't Anthony, either, at the Seneca Falls Convention or campaigning to get the necessary votes in Congress and in the the states. But Anthony is a convenient (and many people would say apt) symbol of the women's suffrage movement.
And on Election Day in 2016, people waited in line for hours to pay their respects and add their "I Voted" stickers to Anthony's headstone. The cemetery stayed open nearly four hours longer than normal to accommodate the demand.