2012 Presidential Election: Voting Stories
---
Americans by the millions voted in many ways: early absentee, electronically, and physically on Election Day.
Some went through trying experiences to be able to cast their votes. For starters, many displaced by Hurricane Sandy found themselves in long lines to vote, even though New York Gov. Andrew Cuomo had allowed voters to vote in any precinct, not just their home one. Long lines were reported in much of the country, with some people reporting having to wait up to nine hours before being able to enter a polling place.
Despite these delays, people did wait in line for hours in order to vote. Others went through extraordinary circumstances just so they could cast their ballots.
A 21-year-old Chicago woman took time out from five-minutes-apart contractions to vote, then continued on to an area hospital to give birth. It was her first-ever presidential vote, and she said that nothing, including impending birth, would stop her from voting.
And in Michigan, an elderly man voting early passed out and literally stopped breathing before being resuscitated by a quick-thinking nurse, who just happened to be there at the time. When the man came woke up, he answered that yes, he knew his name and yes, he knew his wife's name but he wanted to make sure that he had indeed voted. The answer was yes. The man then went to the hospital.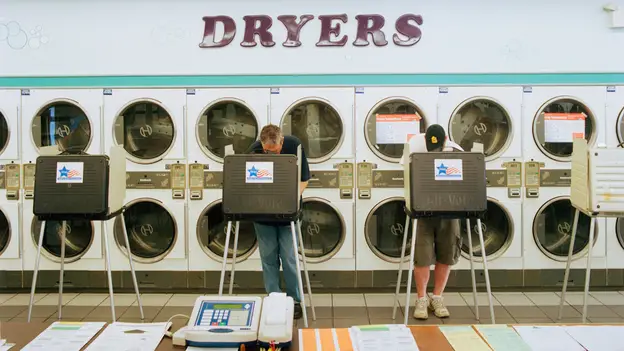 According to various state laws, polling places can be just about anywhere, as proved by this list:
a Chicago laundromat
a McDonald's play area in California
a pool hall in Illinois
a car dealership in Ohio
the den of the home of a South Carolina resident
a Pennsylvania museum
a fire station in New Jersey.