2012 Presidential Election: the Republican Vice-presidential Nominee
---
Republican nominee Mitt Romney has named as his running mate Paul Ryan.
Ryan, a Representative from Wisconsin, is the House Budget Committee chairman and the architect of a major budget that has won plaudits from many Republicans and scorn from many Democrats.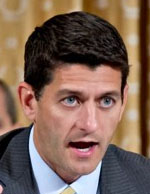 To the Republican ticket, Ryan brings experience and a youthful appearance. Just 42, Ryan is serving his seventh term in Congress, representing Wisconsin's 1st Congressional District.
Ryan was born in and grew up in Wisconsi. Once hoping to be a doctor, he graduated from Miami University of Ohio with a degree in economics and political science and then embarked on a brief career in marketing and his family's construction business before taking a job as a staff economist in the office of Wisconsin Sen. Bob Kasten. When Kasten lost his Senate seat, Ryan found work as a speechwriter in a GOP advocacy group and then legislative director for another Senator, Sam Brownback of Kansas.
Ryan won a seat in the House of Representatives on his first attempt, in 1998. He has been re-elected six times. Wisconsin law allows him to run for re-election at the same time as he is running for Vice-president.
In addition to his well-known role on the Budget Committee, Ryan has served on the Ways and Means Committee and that committee's Subcommitee on Health.
Ryan, who supplemented his early political career with work as a personal trainer, is a strong advocate of daily fitness, keen to avoid the fate of his father, grandfather, and great-grandfather, all of whom died of heart attacks in their 502.
Ryan is married to Janna Ryan, and they have three children: Elizabeth, Charles, and Samuel.