Astronaut, Cosmonaut to Live a Year in Space
---
November 26, 2012
An astronaut and a cosmonaut have signed up for a yearlong trip aboard the International Space Station.
Scott Kelly (right), a veteran NASA space commander, and Mikhail Kornienko, a longtime cosmonaut in the Russian space agency, will begin training early next year in anticipation of a launch in spring 2015 and a return date of the following spring. Both have been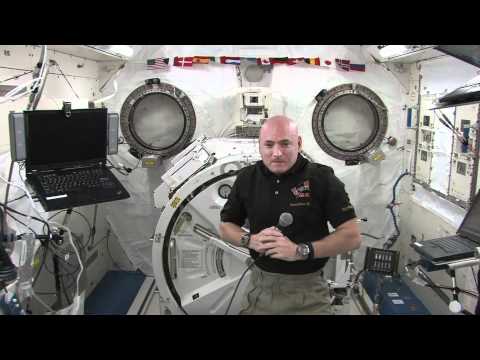 aboard the Space Station before.
Among the goals of the flight will be a series of studies on how the human body reacts when kept in space for long periods of time. One of NASA's relatively long-term goals is sending a manned mission to a near-Earth asteroid by 2025. Also on the drawing board are discussions of a return of manned missions to the Moon.
Kelly, a 47-year-old Navy captain who also flew on two space shuttle missions, served aboard the Space Station for five months last year. He is also the former Director of Operations in Star City, Russia. Kelly's twin brother, Mark, served aboard the Space Station in 2011. Mark Kelly's wife is Gabrielle Giffords, the Arizona congresswoman who survived a potentially lethal shooting in early 2011. Mark and Scott are the only siblings to have traveled in space.
Kornienko (left), a 52-year-old former paratrooper, is a longtime cosmonaut who has already spent 176 days aboard the Space Station during two previous missions. He completed a six-hour spacewalk in 2010.
The Kelly-Kornienko mission won't be the longest continuous spaceflight, however. That honor belongs to cosmonaut Valery Polyakov, who spent 438 straight days in orbit aboard Russia's Mir space station from January 1994 to March 1995.
Construction of the International Space Station, with funding and manpower from Canada, Japan, Russia, the U.S., and European nations, was completed in 2000. Astronauts and/or cosmonauts have lived aboard the Space Station since then.