---
Design Unveiled for World War I Memorial

On This Site
Share This Page

---
Follow This Site



January 29, 2016
A new World War I memorial in Washington, D.C., has an official design.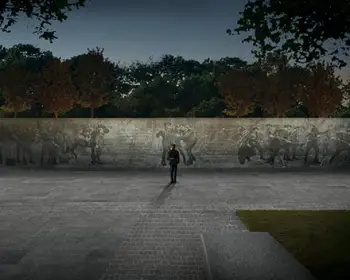 The Weight of Sacrifice, designed by sculptor Sabin Howard and architect Joe Weishaar, will be open on or before Armistice Day (November 11) in 2018, according to the U.S. World War I Centennial Commission. The opening will be timed to coincide with the 100th anniversary of what many people hoped was "the war to end all wars."
The design, one of more than 350 submitted, incorporates 116,516 cubic feet of space, one for each American soldier killed during the war, also known as the Great War. A central part of the memorial will be a relief sculpture titled "The Wall of Remembrance," on which 23 figures progress from civilians into war-scarred soldiers. Also featured will be a wall of quotations from generals, politicians, and, most in residence, the soldiers themselves.
The designers of the memorial have vowed to emphasize the freedoms for which the soldiers were fighting as well and vowed also not to glorify war itself.
The new memorial will not be on the National Mall because federal law has closed the Mall to new construction. Instead, the new memorial will be in Pershing Park, near the White House. Already in Pershing Park is a statue of the park's namesake, General John Joseph Pershing, who commanded the American Expeditionary Forces during the Great War. The park itself functions as a WWI memorial for many people, and preservationists have urged the designers of the new memorial to keep as much as the existing park as possible.