A League of Their Own Inspiration Dies at 84
---
May 25, 2010
Dorothy "Dottie" Kamenshek, the inspiration for the lead character in the popular movie A League of Their Own, has died. She was 84.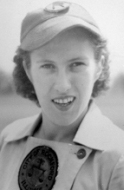 Kamenshek, who was named as one of the 100 greatest female athletes of the 20th Century by Sports Illustrated for Women, was an outstanding fielder and hitter for the Rockford Peaches, one of the many teams of the All-American Girls Professional Baseball League (AAGPBL), which paid women to play baseball from 1943 to 1954. A left-handed infielder, Kamenshek, who was also called "Kammie," led the league in hitting twice and played on four championship teams. In 3,736 lifetime at-bats, she struck out only 81 times. She was also fast, in 1946 stealing 109 bases in 107 games (all while wearing a skirt, which all women baseball players did).


Discovered by a scout while she was playing for a Cincinnati softball league, Kamenshek agreed to attend tryouts for the new league at Wrigley Field in 1943. She impressed league organizers and was a founding member of the feared Rockford Peaches, starting out as an outfielder but soon moving to first base. She was a stalwart for the Peaches, playing until 1953. She once turned down an offer from a men's baseball team in the Florida International League because she believed the offer was a publicity stunt.

When she wasn't playing baseball, Kamenshek was studying for her degree. She concentrated on physical education and health education, and she received a degree in physical therapy in 1958. She put her degree into practice in Ohio and California (where she was supervisor of physical and occupational therapy for L.A. County Children's Services) until retiring in 1980.

Kamenshek is included in the AAGPBL display at the Baseball Hall of Fame. She and the league were celebrated in the Penny Marshall-directed hit A League of Their Own, which came out in 1992. In the film, Geena Davis played Dottie Hinson, a character based on Kamenshek (who was an advisor on the set).

Social Studies
for Kids
copyright 2002-2014,
David White
---