White House Easter Egg Event Goes Green
---
March 31, 2010
Yes, they're Easter eggs. No, they're not sugar-laden chocolate monstrosities.

The eggs that feature at this year's White House Easter Egg Roll will be of the healthy variety in that they will be made of wood and have a water-based coating that seals in the ink made from vegetable oil. (That's healthy for the environment.)

"Ready, Set, Go!" is the theme for the April 5 event, which will also feature sporting games, storytelling, and live music. Also on order will be cooking stations, with the emphasis on healthy food, in conjunction with "Let's Move!", First Lady Michelle Obama's campaign against childhood obesity.

Those not lucky enough to be invited to this very public event can still feel part of the fun by buying souvenir eggs just like the ones to be given to children at the White House. You can get one for $13 or a set of four for $35. The four colors available are green, pink, purple, and yellow. Click here for more.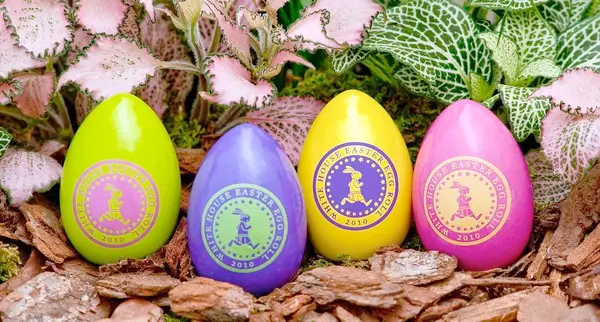 The first official White House Easter Egg lawn roll took place in 1878, when then-President Rutherford B. Hayes threw open the gates to the White House grounds so that neighborhood children could roll their eggs on the lawn. The annual event has come a long way since then, even being broadcast on the Internet since 1998.

Social Studies
for Kids
copyright 2002-2014,
David White
---