The U.S. Navy has positively identified a shipwreck as a tugboat that disappeared in 1921, solving one of the military service's greatest mysteries.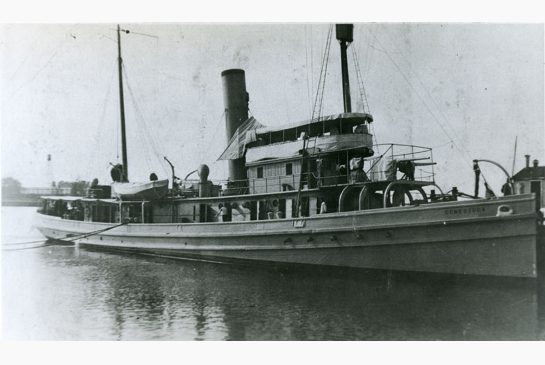 The tugboat, named the Conestoga, left the Golden Gate, off San Francisco, on March 25, 1921. The first destination was Pearl Harbor, Hawaii. The final destination was American Samoa. The expected arrival date at Pearl Harbor was April 5.
The boat never arrived. All 56 people aboard were assumed to have died.
Then Navy organized a large search-and-rescue effort; it was the largest search ever and today is the second-largest ever comissioned by the Navy. (Only the 1937 search for famed aviatrix Amelia Earhart was larger.)
The search lasted two months, and the Navy had a few false clues (including a drifting lifeboat) but no results. In June, the Navy declared the boat and the crew lost.
Nearly a century later, researchers from the Navy and from the National Oceanic and Atmospheric Administration (NOAA) found the boat, 30 miles off the California coast, in the Greater Farallones National Marine Sanctuary, home to hundreds of other shipwrecks. NOAA has been mapping the area for a number of years.
A suspected match in 2009 prompted a more detailed search, helped along by a Remotely Operated Vehicle, an underwater machine equipped with a high-quality still and moving image camera. The ROV produced a photo that helped the researchers identify the Conestoga; the photo showed the well preserved remains of a gun that matched one in a photo taken a few months before the ship disappeared.
Researchers now think that the ship, which was found just three miles off Southeast Farallon Island, sank the day after it left the mainland. The island is the largest of its group and home to a lighthouse.
As the color photo shows, the hull of the Conestoga is now home to a variety of sea life, including sea anemones, eels, rockfish, and the occasional octopus.
The Sanctuary is nearly 3,300 square miles of marine wildlife, much of it endangered or threatened. Among the species commonly found in the area are great white sharks. Researchers had to take special care during their investigation, not only to disturb the natural habitat as little as possible but also to watch out for sharks.
The ship first sailed in 1903. The Navy bought the ship in 1917.