New Entrants to Toy Hall of Fame
---
November 4, 2010
The game of Life® and playing cards are now enshrined in the National Toy Hall of Fame, according to the Rochester, N.Y. organization.

A total of 46 toys are now in the hall, including such ancient favorites as chess and the pogo stick and relatively newer favorites like the Nintendo Game Boy®.


Life, created in the mid-19th Century, encourages players to make choices as they move pieces around the game board, earning and spending paper money depending on things like education and number of family members.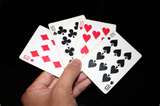 Playing cards have been around for many hundreds of years. The number of games that can be played with these cards is quite high.

The Toy Hall of Fame first inducted toys in 1998, when the list included Barbie®, LEGO®, the Frisbee®, and marbles.

The Hall of Fame is part of the Strong, a network of educational entities that includes the National Museum of Play and the International Center for the History of Electronic Games.

Here is a list of the toys inducted into the Hall of Fame:
alphabet blocks
Atari® 2600
baby doll
Barbie®
bicycle
Big Wheel®
Candy Land® game
cardboard box
Checkers
Crayola® crayons
Duncan® yo-yo
Easy-Bake® oven
Erector® set
Etch-a-Sketch®
Frisbee®
G.I. Joe®
hula hoop®
jack-in-the-box
jacks
jigsaw puzzle
jump rope
kite
LEGO®
Life® game
Lincoln Logs®
Lionel® trains
marbles
Monopoly® game
Mr. Potato Head®
Nintendo Game Boy®
Play-Doh®
playing cards
Radio Flyer® wagon
Raggedy Ann and Andy™
rocking horse
roller skates
Scrabble® game
Silly Putty®
skateboard
Slinky®
sticks
teddy bear
Tinkertoy®
Tonka® trucks
View-Master®
To nominate a toy, click here.

Social Studies
for Kids
copyright 2002-2014,
David White
---