---
Titanic Lunch Menu on Auction
September 7, 2015
A lunch menu from the Titanic will be up for auction at the end of the month in New York.
The menu survived the sinking of the "unsinkable ship" because a first-class passenger, Abraham Lincoln Salomon, kept it safe in his pocket when he exited the boat via the so-called "Money Boat," a lifeboat that was large enough to hold 40 people but carried to safety only five wealthy people and the seven Titanic crewmembers who did the rowing.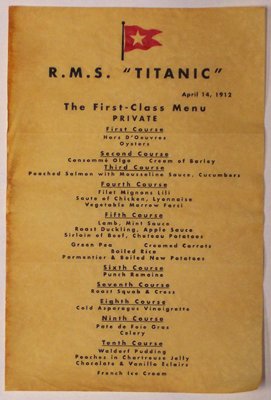 The menu shows that the noontime meal that some of the passengers had on April 14, 1912, included corned beef, potted shrimp, and dumplings. The menu is expected to sell for at least $50,000, according to the auction's organizers, Lion Heart Autographs.
Also on offer will be other items that Salomon saved, including a ticket from the ship's Turkish baths weighing chair. The ticket is expected to sell for as much as $10,000, partly because it contains the names of three other passengers on the "Money Boat": Cosmo Duff-Gordon, a wealthy landowner and former Olympic medalist; Lucy Duff-Gordon, a fashion designer; and Mabel Francatelli, Lucy Duff-Gordon's secretary.
A letter that Francatelli wrote to Salomon six months after the disaster is another item that is on auction.
Salomon, after making it to the U.S., continued in his capacity as owner of a stationery business. He did not speak of the disaster, his family later recalled. He died in 1959, leaving an estate estimated at $117,000.
The Titanic items are part of a larger auction of items with historical themes. Among the other items to be auctioned are a letter written by Albert Einstein to a budding mathematician, a large group of letters written by convicted double agent Aldrich Ames, and a royal edict from Spain's King Ferdinand and Queen Isabella, advising their subjects of the dangers of gambling and playing cards and dice.
The auction will take place September 30.