The Winter Olympics 2010: Cauldron Lit, Games Begin
---
February 12, 2010
The Olympic Cauldron is lit, and the 2010 Winter Olympic Games are under way.
The Opening Ceremony took place in non-rainy weather, one of the few evenings recently to not be peppered with raindrops, worsening the lack-of-snow conditions on the ground. This was because of the simple fact that it all took place inside. This was the first Olympics Opening Ceremony ever to take place indoors.
Also casting a shadow over the evening was the death of luge athlete Nodar Kumaritashvili, who crashed during a training run. Many athletes sported black armbands in memory of the 21-year-old Georgian as they marched into the ceremony.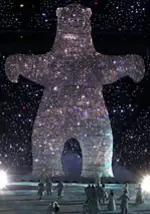 In a lavish ceremony filled with symbolism and peaceful intent, Vancouver officially opened the two-week athletic fest. Singers, instrument artists, and dancers performed to familiar tunes. In one particularly memorable sequence, dancers performed in the shadow of a giant polar bear, that rose from the floor.
It wouldn't be an Opening Ceremony without the spoken word as well, and Jacques Rogge, IOC President, gave his customary speech. Then it was over to other customary things, like the carrying in of the Olympic flag and the singing of the Olympic hymn.
The final act of the evening was the lighting of the Olympic cauldron. This was done by a team of famous people, including hockey great Wayne Gretzky.