The Winter Olympics 2010: Single-athlete Countries
---
February 10, 2010
One compelling story at this year's Winter Olympic Games is that of Shiva Keshavan, India's only competitor. The luge is his chosen sport, and this will be his fourth time competing in the Winter Olympics.

Keshavan was 16 when he raced in Nagano, Japan, in 1998, becoming the youngest ever to race luge in the Olympics. He raced in Salt Lake City in 2002 and in Torino, Italy, in 2006.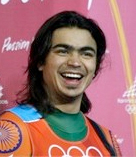 He has four Asian Championships medals to his name, including a silver at last year's event. He hasn't enjoyed the success of winning an Olympic medal, but then India isn't exactly known for its winter training facilities. A good bit of his training has been on dry roads, using sleds with wheels.

His chances for racing at all this time round were seriously in doubt in November, when his sled (the real one) broke during a training run. However, a group of lawyers in India donated enough money to buy him a new sled.

Another one-man story is that of Kwame Nkrumah-Acheampong, who will be competing in Alpine skiing representing his now-home country of Ghana. (He was born in Scotland.) Kwame has propelled himself into the Olympics almost entirely by himself. He taught himself how to ski, starting only six years ago, after he got a job as a receptionist at an indoor ski centre in the U.K., where he had returned to study for a master's degree.


He has provided almost all of the money needed for training, equipment, and competition. He is also his country's only representative at the Vancouver Games, the first ever Ghanian to qualify for the Winter Olympics. He just missed qualifying for the 2006 Winter Olympics, in Torino, Italy.

Kwame is already planning to raise awareness of his new favorite sport in Ghana. He has picked out a site to build a grass ski slope and is seeking donations to help build the site.

One more thing about Kwame: His nickname is Snow Leopard. He has promised to donate a part of his winnings to save the endangered animals.
---

Social Studies for Kids copyright 2002-2014,
David White
---