The Winter Olympics 2010: Ohno Winningest American
---
February 21, 2010
Apolo Anton Ohno can now claim to the best most-decorated American athlete ever in the Winter Olympics. His bronze medal in the short track 1,000 meters marked his seventh time standing on the Olympic podium, eclipsing the record of six held by Bonnie Blair.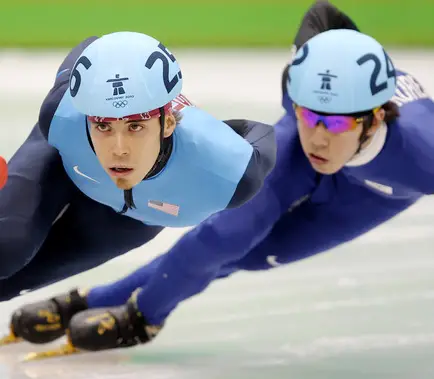 Blair was on hand for the occasion and congratulated Ohno afterward. Ohno's medal distribution is two gold, two silver, and three bronze. (He won a gold in the 1,500 meters and a silver in the 1,000 in the 2002 Salt Lake City Games. Four years later, in Turin, he won a gold and two bronzes.)

The third-place finish in the 1,000 meters marked his second medal in Vancouver; he got a silver in the 1,500 earlier. If he earns medals in his two remaining events (the 500 and 5,000 relay), he can approach the total of 14, held by swimmer Michael Phelps, who was also in attendance for Ohno's medal-winning performance.

Ohno's dominance in the relatively new Olympic event has earned him a reputation of a solid performer in a sport that is often marred by collisions between competitors. Sometimes, the medallists are the ones who remain upright throughout the often bumpy affair that the multiple ovals around the tiny track becomes. A handful of athletes have won five medals in the Olympics.

Ohno's success extends elsewhere on the world stage as well. He was won a total of 23 medals in world championships events and won the sport's overall World Championship in 2008.
---

Social Studies for Kids copyright 2002-2014,
David White
---