The Winter Olympics 2010: Chinese Pair Win Figure Skating Gold
---
February 15, 2010
It's difficult to overstate the dominance that Soviet and Russian figure skaters have had in the pairs event at the Winter Olympics. The last time that a pair from another country won the gold medal was 1960.
That has now changed.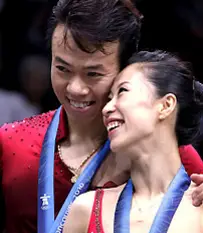 China's Shen Xue and Zhao Hongbo have won the gold medal for the pairs figure skating in Vancouver. They were so spectacularly good that they were a full three points clear of the silver medal team of Pang Qing and Tong Jian, also of China. Aliona Savchenko and Robin Szolkowy of Germany were third.
It was a long and difficult road for Shen and Zhao, a married couple who persisted in their Olympid dream despite previous setbacks and advancing age. (She is 31, and he is 36 – far older than most other competitors.)
The pair have been together a long time but married only since 2007, when they won their world championship. They won the bronze medal in the 2002 and 2006 Winter Olympics. They retired not long after their 2007 world title. But they grew restless and determined to give it one more shot.
And what a shot it was. First after the short program on Valentine's Day, Shen and Zhao skated even better on Tuesday. In the end, the winners stood tall and sent the Russians home empty-handed for the first time in 50 years.