The Winter Olympics 2010: Bode Finally Wins Gold
---
February 21, 2010
The gold medal is finally around Bode Miller's neck.

The American skier, heralded as one of the sport's most exciting competitors yet shut out of the medals at the 2006 Winter Games in Turin, has won the Super Combined event in convincing fashion, finishing a third of a second ahead of second-place finisher Ivica Kostelic of Crotia. That .33 of a second might not sound like much in the real world, but it's a very long time in skiing. Silvan Zurbriggen of Switzerland claimed the bronze medal.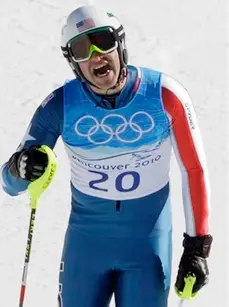 Miller's downhill run was noteworthy, putting him in seventh place, and his blistering slalom run gave him the overall lowest time of all the male skiers in that event. He waited nervously while downhill leader Aksel Lund Svindal skied down the slalom course, but the Norwegian speedster bombed out on his run, giving Miller the win.

It was something of a redemption for the man whose high hopes and national expectations were dashed in Turin, amid poor performances and allegations that he regarded the party lifestyle more highly than the training regimen needed to win at the highest level. He won his second overall World Cup in 2007–8 but tired of the grind and took some time off to be with his family. Soon, though, the competition motivation was there again and he committed to regaining his form and his desire for winning. His performance thus far in Vancouver is proof of that.

The medal was Miller's third in Vancouver. He won bronze in the downhill and silver in the Super-G. The total of three in a single Winter Olympics ties the existing record, held by Jean-Claude Killy, Toni Sailer, and Kjetil Andre Aamodt (who holds the career record of eight).

Miller also won a pair of silver medals at the 2002 Games, in Salt Lake City. His career total of five ties him for second all-time, with Alberto Tomba and Lasse Kjus.
---

Social Studies for Kids copyright 2002-2014,
David White
---