Scientists Say Daydreams Natural; They Can Prove It
---
January 23, 2007
That daydream that you have in the afternoon each day at school is natural, a group of scientists have concluded, and they have physical evidence to prove it.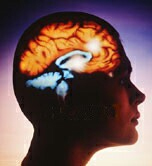 A group of researchers led by a psychologist at Harvard Medical School has made a series of brain scans of volunteers at various times during the day. Those scans show the part of the brain that is active in between tasks. That's a bit of a change from what scientists used to think, which was that the brain drifted when it wasn't processing tasks. Instead, the scientists found, the brain moved effortlessly from topic to topic, sometimes at lightning speeds, but did not "go blank." It's not a daydream; rather, it's your brain going on autopilot.
The study, which was published during the weekend in the journal Science, showed results of a series of magnetic resonance imaging (MRI) scans in real time of the brains of a group of people who volunteered for the study. One possibility for the brain's always being active, the scientists suggested, is so it is ready to move at a moment's notice if danger—or a new task—arises.
---
Custom Search

Social Studies
for Kids
copyright 2002-2014,
David White
---