Tallest Skyscraper Opens for Business
---
December 31, 2004

The tallest building in the world opened today in Taiwan. Called "Taipei 101," it stretches 1,679 feet into the sky and has been called a "giant bamboo shoot of glass and steel."

Taiwanese President Chen Shui-bian dedicated the building in a public ceremony, and all 101 floors opened for business. Other than the many shops, the skyscraper has a library, several restaurants, a fitness center, a communications center, an observatory, and a large number of office buildings.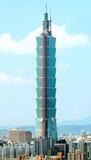 The skyscraper has the world's two fastest elevators, which can whisk people hoping for a great view from the ground floor to the 89th floor in 39 seconds. The building has 61 elevators in all.
Taipei 101 also has the most advanced fire protection in the world. Sprinklers dot ceilings everywhere, on all floors. The latest in smoke-control technology has been installed. And, according to the building's designers, specific areas have been designated as "areas of refuge," which are reinforced structurally and designed to give a maximum of protection against fire.
The building has a foundation more than 250 feet deep and also has a huge dampener installed within the building, to counteract high winds and typhoons, which normally threaten very tall buildings.
Graphics courtesy of ArtToday
---
Custom Search

Social Studies
for Kids
copyright 2002-2014,
David White
---