Statues 'Come to Life' with the Scan of a Smartphone
---
August 24, 2014
If the statues could talk … Well, now they do, sort of.
A new project by the non-profit Sing London has tapped 35 statues in London and Manchester with the ability to "talk," meaning that visitors who use their smartphones to scan a digital code can hear a special message recorded by members or affiliates of the group (including well-known actors and comedians) purporting to be the people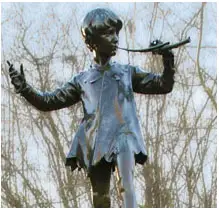 depicted in the statues. It's not a conversation but a monologue. So anyone hearing the two-minute message can talk back but not get a reasoned response. Still, many visitors to a Queen Victoria statue might be delighted to hear that the queen is getting tired of holding up a heavy scepter.
Among the statues so far "talking" are these in London:
Achilles
Ariel & Prospero (from Shakespeare's Midsummer Night's Dream)
the Broad family (a family-sized group of family-sized statues)
Isambard Brunel (engineer and railroad pioneer)
the Eye-I sculpture
Rowland Hill (early proponent of the pre-paid postage stamp)
Hodge the Cat
Sherlock Holmes
Hugh Myddelton (a 17th Century engineer and goldsmith)
Isaac Newton
Peter Pan
the Unknown Soldier
Dick Whittington's cat
John Wilkes (an 18th Century politician)
and general statues of a goat, a couple on a seat, and a crowd at rush hour
and in Manchester:
John Barbirolli (renowned musical conductor)
Abraham Lincoln
L.S. Lowry (well-known artist, famous for match-stick people and animals)
Alan Turing (famous mathematician and scientist)
Queen Victoria
the Reading Girl (who sits, reading, outside Manchester Central Library).
Custom Search
Social Studies for Kids
copyright 2002-2014,
David White
---