Syrian Opposition Hammers Out Deal, Names Leaders
---
November 11, 2012
Groups in opposition to Syrian President Bashar al-Assad have formed a coalition and selected its two top leaders. Moaz al-Khatib (right), a well-known activist preacher from Damascus, was elected the coalition's leader, and the secretary-general was named as noted business leader Mustafa Sabbagh.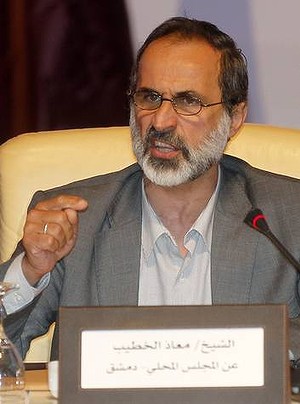 The National Coalition for Opposition Forces and the Syrian Revolution will have between 55 and 60 members and is made up of members of the main existing political and military groups, the Syrian National Council and the Free Syrian Army. Representation will be drawn from across many ethnic and religious groups, including Christians and Muslims (even Alawites, the Shia subset to which Assad and his government belong). Also represented will be Kurds and (a first for many) women.
At a meeting in Doha, Qatar, prominent dissident Riad Seif confirmed a 12-point deal to approve his idea of a grand coalition to press the case against Assad. The opposition began in early 2011 with peaceful protests but was met with military force and has since evolved to include military force of its own. The now-civil war has dragged on for months, killing more than 36,000 people and forcing hundreds of thousands to flee the country.
Within the Syrian borders, the fighting continued, with government forces attacking a key rebel-held area along the Syria-Turkey border. The two sides traded fire in other areas of the country as well, including Damascus, the capital.
For the first time, Israeli forces joined the fray, if only slightly, firing warning shots over its border in response to a Syrian mortar round's landing in the Golan Heights. It was the first instance of Israeli shots against Syrian forces since the 1973 Middle East war. (Israel seized the Golan Heights in a war in 1967, and Syria tried to retake them in 1973.) A United Nations force is on patrol along a buffer zone, which Israel says Syrian forces entered last week in pursuit of rebel fighters.
The cross-border flare-up was similar to one involving Turkish troops a few weeks back. Turkish forces along the border are now on high alert, and Syria and Turkey have traded airspace bans on each other's planes.

Social Studies
for Kids
copyright 2002-2014,
David White
---