U.K. Unveils Supreme Court
---
October 5, 2009

The United Kingdom now has a Supreme Court.

On October 5, the same day that the U.S. Supreme Court began its new term, the U.K. Supreme Court heard its first case, in which lawyers argued over whether the government had the right to freeze the assets of terrorism suspects even though they had not been convicted.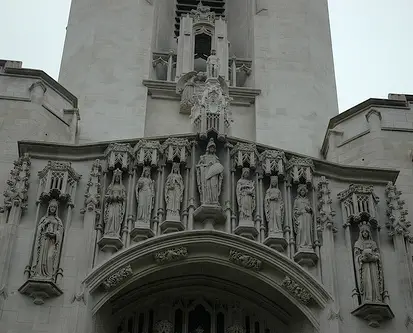 The highest court in the U.K. had previously been the Law Lords, a group of justices who were technically part of the House of Lords, the higher house of Parliament. Now, that group of 12 justices is called the Supreme Court.
The justices wore no wigs or robes, as they had in the past. Also a change is that the new courtroom is fully outfitted with recording equipment, which was used on the first day of business.

A decision by the U.K. Supreme Court will not mean the overturning of a law, however, as it might in the U.S. The United Kingdom has not written constitution.
The former Middlesex Guildhall, on Parliament Square, is the home of the new Supreme Court.
---

Social Studies
for Kids
copyright 2002-2014,
David White
---