Streetcars Powering Up Comeback Across U.S.
---
November 13, 2013
Increasingly across the United States, cities are reinvesting in electric streetcars, as an alternative to gas-powered vehicles.
Several dozen cities in states from coast to coast have created or are in the process of creating streetcar networks, many in the very spots where they were before.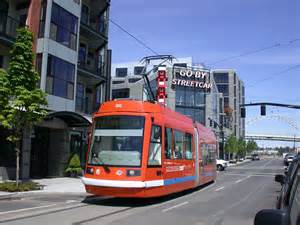 The streetcar system in Portland, Ore., is in its 13th year and daily carries more than 10,000 people to work along a route that includes a revitalized Pearl District, once the site of abandoned warehouses and now the beneficiary of $3.5 billion in development. Passengers can use smartphones and tablets to identify the arrival time of the next car along the eight-mile line.
North up the Pacific coast in Seattle, another network (nearly three miles long and connected multiple points of the city) has been growing during the past decade, as has been one in Kenosha, Wis., bringing new life to a city depressed by the global financial crisis and the downturn in demand for automobiles. The Kenosha network, funded in large part by a federal grant, features rebuilt cars from nearby Toronto.
Utah's capital, Salt Lake City, is set to open a two-mile line as part of a "greenway," a network of bike paths and open spaces that are part of the city's urban renewal strategy. Other cities following a similar path include Atlanta; Cincinnati; Dallas; Kansas City, Mo.; Los Angeles; and Tucson, Ariz., are getting back into the streetcar business.
The first electric streetcars appeared in the late 19th Century. Use of the new form of transportation spread quickly across the country, with more than 10,000 miles of track for 900 rail networks by the dawn of the 20th Century.
Tens of thousands of American regularly used streetcars for work commutes and shopping trips for the first half of the new century. However, a combination of the Great Depression, World War II, and a postwar boom in automobile access led to a sharp decline in the use of streetcars. Most cities ripped up their rail lines, in favor of ensuring one more lane for cars, trucks, and buses (which could hold more people than streetcars).
Many cities still have electric streetcars. Notable examples are San Francisco, New Orleans, and Philadelphia.
Other cities have gone to light rail, which is more expensive because it requires dedicated rail space (whereas streetcar rails are generally placed in existing roadways).