Modern Tech Reveals Stonehenge Network
---
September 12, 2014
Using high-tech gadgets, archaeologists have found that Stonehenge is much more than it appears to be.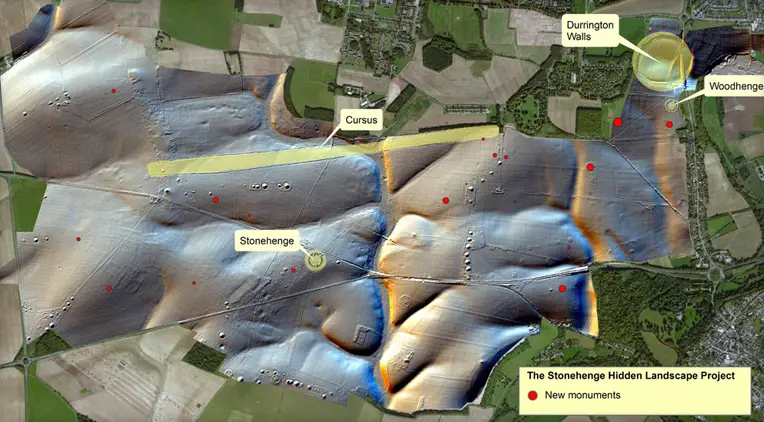 A combination of high-resolution magnetometers, ground-penetrating radar, a 3D laser scanner, and other ultra-modern equipment has produced scans showing no less than 17 previously unknown Stonehenge-like monuments, one large burial-associated building, and burial pits that appear to be aligned with the Sun. Including Stonehenge, the 18 monuments form a total of nearly five dozen stones or pillars in a nearly four-square-miles-wide area that some are calling "Super Henge." All are thought to have been built at roughly the same period in time.
The burial building is 108 feet long and is thought to have been used for various practices associated with caring for bodies. The timber building is trapezoid-shaped, the same shape as other buildings found near other giant statues like Stonehenge.
The scans also revealed new findings at existing sites to the north and northeast of Stonehenge, at the Cursus and the Durrington Walls. At the Cursus, a well-known circular trench that resembles a Roman racing track, the newly discovered burial pits were found to point to the direction of the Sun at dusk and dawn, respectively, similar to the alignment of Stonehenge. At Durrington Walls, the second-largest known henge in Europe, findings included evidence of stones and posts 10 feet below the existing mounds.
The publication of the results, which coincided with a television program broadcast on the BBC, was coordinated by Birmingham Unviersity and Vienna's Ludwig Boltzmann Institute for Archaeological Prospection and Virtual Archaeology. Also involved were U.K. universities in Bradford, Nottingham, and St. Andrews and Belgium's University of Ghent.
Those involved in the study, led by Birmingham's Professor Vincent Gaffney, cautioned that their results needed to be verified. The announcement could very well increase the number of curious onlookers to the historic Wiltshire site, which currently attracts more than 1.2 million people each year.
Custom Search
Social Studies
for Kids
copyright 2002-2014,
David White
---