Stolen Stamps Targeted with $100,000 Reward
---
September 28, 2014
Two of the most famous rare U.S. postage stamps are still missing, and a stamp organization is offering $50,000 each for their recovery.
The stamps are both the "Inverted Jenny" 1918 misprint, 24-cent airmail stamps that show a plane flying upside down. Ethel McCoy, whose father was a co-founder of the Dow Jones company, bought the four-block set in 1936, paying $16,000.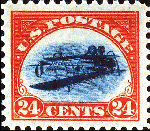 The two missing stamps were part of a block of four that went on display in September 1955 at the American Philatelic Society convention in Norfolk, Va.
Someone stole the four-stamp block. One of the stamps was recovered in 1977. A second was found in 1981.
McCoy owned the two remaining stamps until 1980, when she donated them to the American Philatelic Society's Research Library, based in Bellfonte, Penn. The Research Library is offering the reward, which expires in September 2015.
The "Inverted Jenny" is one of the most famous stamps ever (mis)printed. A total of 700 stamps were printed before the printers noticed the mistake. The printers destroyed 600, but 100 of them escaped into the public domain, initially into the hands of William Robey, who bought them all at face value, $24. Robey quickly noticed the mistake and broke up the sheet. Individual and small-block sales have taken place in the years since.
The last known known sale was in 2007, when an anonymous bidder bought one of the stamps for $977,500. The last four-block sale occurred in 2005, and the amount paid for that block was $2.7 million.
Custom Search

Social Studies
for Kids
copyright 2002-2014,
David White
---