Statue of Liberty Reopens after Storm Repairs
---
July 4, 2013
Eight months after Superstorm Sandy savaged Liberty Island, workers have completed repairs and visitors can again see the Statue of Liberty up close.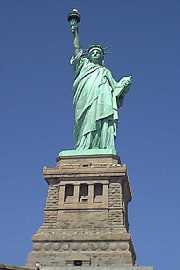 The Statue, closed the previous year to facilitate upgrades of security, had been open for just one day in 2012 when Sandy hit, tearing apart railings and docks, flinging paving stones into the air, flooding buildings, and destroying electrical systems. Three-quarters of the isaldn was flooded, and some parts of the island stood briefly under five feet of water.
The Statue itself suffered no lasting damage, but the repairs to the buildings and walkways on the 12-acre island were extensive and were just finished in time for the Independence Day holiday reopening. (Sandy hit on October 29.)
Some minor repairs are ongoing. Nearby Ellis Island is still closed for repairs.
Huge crowds were on hand on Liberty Island at a ribbon-cutting ceremony presided over by New York City Mayor Michael Bloomberg and Secretary of the Interior Sally Jewell.
About 400 people usually work on Liberty Island, which draws nearly 4 million visitors annually.