Storm Delays Statue of Liberty Reopening
---
October 28, 2012
The Statue of Liberty will reopen to the public on Wednesday, two days later than planned because of heavy rains and winds from Hurricane Sandy.
The storm forced a revision of the planned reopening, on the 126th anniversary of the dedication. The statue, a gift from France, was dedicated on Oct. 28, 1886 and declared a national monument in 1924. It was closed after the September 11 attacks, and most of it remained closed until 2004.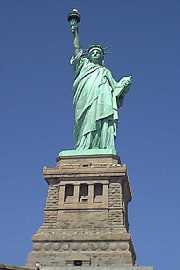 A year ago, the National Park Service closed the monument for a $30 million renovation that included improved fire alarms and sprinklers and other upgrades to bring the monument in line with revised New York City safety codes. In addition, the Park Service installed an upgraded heating and cooling system, to help eliminate what at times was a temperature inside the copper-clad monument that was 20 degrees Fahrenheit higher than outside. As well, the bathrooms were upgraded, for the first time since the 1980s. The renovation involved about 600 workers and 60 tons of concrete, the Park Service said.
A major part of the renovation was to make the crown more easily accessible, by turning 354 steep stairs into 393 stairs that are less steep. (No access to the torch is permitted.)
Wheelchair access has been extended. Interior elevators now carry visitors to an observation deck just under Lady Liberty's sandals, at the top of the 89-foot-tall pedestal, and see inside the statue, which sits atop a 65-foot-tall foundation that is shaped like a star.
Park Service officials say that the upgrades will enable an additional 26,000 visitors a year to go up to the crown. Estimates are that 3.5 million people visit Liberty Island, home of the statue, each year; but Park Service officials say that most visitors did not go inside.

Social Studies
for Kids
copyright 2002-2014,
David White
---