Statue of Liberty Beacon Shines Again
---
November 11, 2012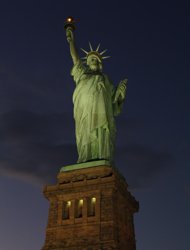 The beacon inside the Statue of Liberty is shining again, thanks to a donation from two New York companies.
The Statue had been closed (and dark) because of damage suffered during the massive storm named Sandy, which left thousands without power or, in many cases, homes.
The National Park Service had recently completed a $30 million renovation to mark the 126th anniversary of the dedication of the Statue, but the storm forced a revision of the planned reopening, on the 126th anniversary of the dedication. The statue, a gift from France, was dedicated on Oct. 28, 1886 and declared a national monument in 1924. It was closed after the September 11 attacks, and most of it remained closed until 2004.
The relit beacon would remain until the Statue would reopen to the public, the National Park Service said, although the exact date for that reopening hadn't been set.
The New York area was still digging out from another a large snowstorm, which hit on the heels of the first major storm.

Social Studies
for Kids
copyright 2002-2014,
David White
---