Liberty, Ellis Islands Closed Indefinitely
---
December 13, 2012
The Statue of Liberty survived Hurricane Sandy, but Liberty Island remains closed, as does Ellis Island.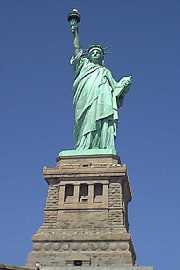 Interior Secretary Ken Salazar confirmed that the damage from the storm to Liberty Island and nearby Ellis Island would keep the two tourist destinations closed for quite some time because repairs would be extensive and expensive.
The Statue of Liberty itself emerged relatively unscathed after the devastating superstorm, but the planned reopening after extensive renovations was postponed again. What was damaged was not the monument itself but the land and fortifications around the monument, making it unsafe for tourists and National Park Service employees who work there.
The same is true for Ellis Island. Historical artifacts are intact, but the island itself and underground heating and electrical systems that power the visitors center have been ripped apart by flooding.
According to the Park Service, repairs to the two islands will approach $60 million. Salazar said that the islands could be opened in stages.