---
New Statue of Liberty Museum Planned

On This Site
Share This Page

---
Follow This Site



November 22, 2015
The National Park Service wants more of "the huddled masses" to be able to get up close and personal with the Statue of Liberty.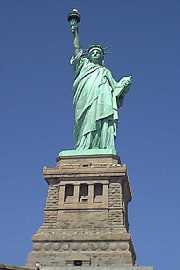 It's a full-replica of Lady Liberty's face, actually, that will be more of an attraction, but it's a view that is currently available only to people who have purchased tickets to the pedestal or the crown of one of America's most recognizable faces.
A gift from France, the Statue of Liberty was unveiled on Liberty Island in 1883. It has been one of America's most popular tourist attractions ever since.
Tickets to visit the pedestal and crown can cost up to $25 each and $28 each, respectively. Far more visitors skip those steps and wander around Liberty Island. But the museum that houses the full-scale replica of the statue's face and other exhibits telling Lady Liberty's story is in the statue itself.
An estimated 4 million people visit Liberty Island each year, the National Park Service said; and of those, 1 million people buy tickets to visit the pedestal or crown.
The National Park Service (NPS) plan calls for the construction of a new 20,000-square-foot building to house the museum and for that new building to be outside the statue itself, on another part of the island.
The NPS plan calls for no federal money; rather, NPS officials would work with a private foundation and also depend on donations to fund the museum's construction.
The NPS has called for public comment on the proposal. A website for that purpose will be open for comments until December 9.