SpaceX Capsule Brings Cargo Back to Earth
---
March 28, 2013
The SpaceX Dragon capsule that flew to the International Space Station has returned, its splashdown successful and its cargo intact. Parachutes enabled the splashdown, which was in the Pacific Ocean, more than 200 miles west of Baja California.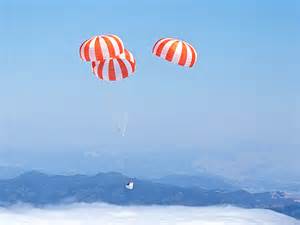 The cargo ship arrived at the Space Station on March 3, after being plucked from orbit by the Space Station's robotic crane. The cargo run transported more than 2,300 pounds of food, spare parts, and science equipment to the astronauts aboard the Space Station.
Among the cargo brought back to Earth was a massive freezer full of biological samples to be used for medical research.
A private company bankrolled to the tune of $100 billion by 15 countries, SpaceX (a shortening of the official name, Space Exploration Technologies) became the first private company to fill the gap left by the retirement of the Space Shuttle program, in 2011. The SpaceX capsule blasted off from Cape Canaveral, Florida, just as space shuttles had.
By being able to carry cargo back to Earth, SpaceX's Dragon capsule has filled a void left by the retirement of the shuttle fleet. (Japanese, Russian, and European capsules also fly to the Space Station, but none of those is designed to return carrying cargo.)
Another company, Orbital Sciences, has a similar launch planned for later this year.
SpaceX will unveil its new Falcon 9 rocket in a satellite delivery mission for the Canadian Space Agency in a few months, from the new launch pad at California's Vandenberg Air Force Base.
Custom Search
Social Studies
for Kids
copyright 2002-2014,
David White
---