Space Shuttles to Get Piggyback Ride to New Homes
---
April 15, 2012
Two space shuttles will go back into space, just a bit, in the next week.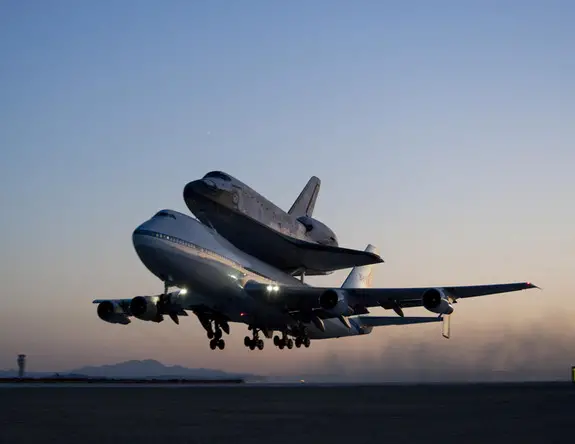 Discovery and Enterprise will ride one last time atop a modified Boeing 747 to their final resting homes. Discovery, which has been undergoing some last-minute finishing touches, at the Kennedy Space Center in Cape Canaveral, Fla., will make its way to the Stephen F. Udvar-Hazy Center in Chantilly, Va. The Udvar-Hazy Center, near Dulles International Airport, is part of the Smithsonian National Air and Space Museum. Enterprise, the prototype that never made it on an official mission, will journey to the Intrepid Sea, Air and Space in New York. The shuttle will be lowered from atop the jet at JFK International Airport, then fitted onto a heavy barge and floated down the Hudson River to the museum.
The other two remaining shuttles, Atlantis and Endeavour, are on display elsewhere. Atlantis will remain at the Kennedy Space Center Visitor Complex. Endeavour is now on display at California Science Center in Los Angeles.
The four-engine jumbo jet is called the Shuttle Carrier Aircraft (SCA) and was modified in several significant ways, not the least of which was the addition of three struts attached to the top of the plane, to "ferry" the shuttle from place to place. An added pair of vertical stabilizers kept the shuttle steady during flight. In the nearly 40 years of space shuttle usage, NASA employed only two SCAs, both of which logged tens of thousands of miles in the air, ferrying shuttles to and from launch site and hangars in Florida and on return flights from California when shuttles landed there because of bad weather on the East Coast.
The space shuttle program incorporated 135 missions from 1981 to 2011. Discovery, which had 39 missions in all, last flew in February 2011. Endeavour went on 25 missions and last few in May 2011. The last shuttle mission was Atlantis, which flew in July 2011. In all, Atlantis flew 33 missions. Two other shuttles were destroyed on missions: Columbia flew 28 missions from 1981 to 2003, and Challenger flew 10 missions from 1983 to 1986.

Social Studies
for Kids
copyright 2002-2014,
David White
---